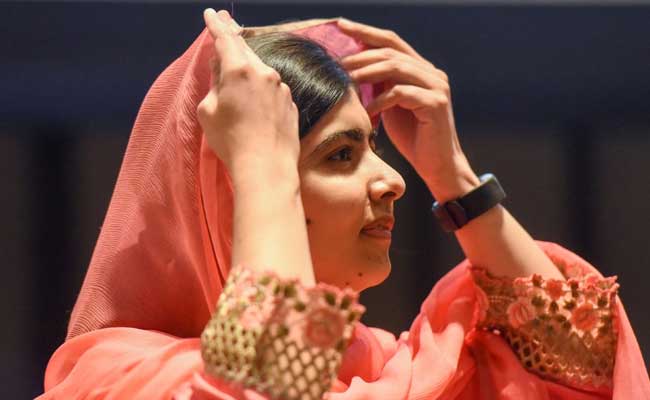 Highlights
She condemned the murder of student Mashal Khan in Pak
She said people have forgotten the meaning of religion and values
Malala Yousafzai is the youngest winner of Nobel Peace Prize
New Delhi:
Pro-education activist Malala Yousafzai has condemned the murder of Pakistani student Mashal Khan and said that the terrorising incident has brought disgrace to Pakistan.
"Today I heard about the death of Mashal Khan. It is a very agonising incident... This incident alone has brought disgrace to our nation. I urge people to know your religion, values and culture. They have always professed peace and tolerance," the youngest Nobel laureate said yesterday, in a video posted on Geo News and shared on social media.
"We complain of Islamophobia and say that other nations are disgracing us. No one is doing that. It is us who are giving a bad name to our country," Ms Yousafzai further stated.
She also said that she spoke to Mashal Khan's father, who gave her a message of peace.
The activist also said that people have forgotten the true meaning of religion and values.
"This wasn't the funeral procession of just Mashal Khan, but the message of our religion, which is peace and tolerance. We have forgotten our values and are not representing our religion," the activist said.
"Islam does not tell us to be impatient and intolerant," Ms Yousafzai added.
Malala Yousafzai, who was shot at by Taliban terrorists for her pro-education advocacy, also urged institutions in Pakistan to condemn the incident.
"I urge all political leaders and parties to stand up for peace and give justice to Mashal Khan. Do not stay silent," she said, in the video message.
A mob beat Mashal Khan, a university student in Pakistan's Mardan area, on Thursday after he was accused of posting blasphemous content on social media. A group of about 10 students attacked Khan, who was stripped naked and beaten with planks until his skull caved in as other students looked on, reported news agency Reuters.
Today, Pakistan's Prime Minister Nawaz Sharif expressed concern over the lynching incident. His daughter, Maryam Sharif, tweeted:
Shocked to see Mashal Khan killing video. Vigilantism &mob justice are indicative of regressive & putrid mindset. Is that what we stand for?

- Maryam Nawaz Sharif (@MaryamNSharif) April 15, 2017
The incident was also criticised by other Pakistani politicians including opposition leader Bilawal Bhutto Zardari.
(With inputs from Agencies)