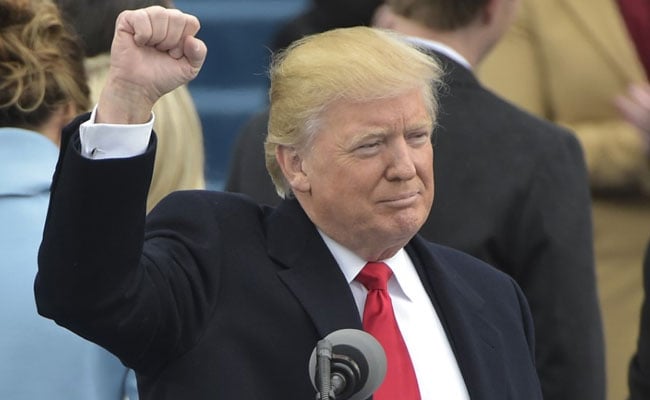 Washington:
Donald Trump has taken oath as the 45th president of the United States of America before a crowd comprising of lakhs of people, including many protesters. Trump, 70, was sworn in outside the domed US Capitol by Chief Justice John Roberts, using two books - the Bible given to him by his mother and the other, the one used by Abraham Lincoln to take oath 156 years ago, in 1861. With Donald Trump's swearing-in, Republicans now have control of both the White House and Congress for the first time since 2006. However, in a sign of deep divisions that Donald Trump sowed during his combative campaign, dozens of Democratic lawmakers boycotted the swearing-in ceremony on Capitol Hill. Mr Trump, the wealthy New York businessman and former reality TV star, is now delivering his inaugural address as the new US President from the steps of the Capitol. Following are the highlights of Mr Trump's address:
Chief Justice Roberts, Presidents Carter, Clinton, Bush, Obama.. Fellow Americans and people of the world, thank you.
We the citizens of US are now joined to restore our country.
Together we will determine the course of our country and the world for many many years.
For years, Washington flourished but people suffered. The established protected itself but not the citizens. Their victories have not been your victories. Jobs and factories left.
The forgotten men and women of our country will be forgotten no longer
Today, we are transferring power from Washington DC and giving it to you, the people.
January 20th, 2017, will be remembered as the day the people became the rulers of this nation again
A nation exists to serve its citizens.
We share one heart, one home, and one glorious destiny.
The Oath of Office I take today is an oath of allegiance to all Americans
We have defended other nations' borders while refusing to defend our own
We are looking only to the future
From this day forward it's only going to be 'America First
I will fight for you with every breath in my body and I will never, ever let you down
Through our loyalty to our country we will rediscover our loyalty to each other
We will unite the civilised world against radical Islamic terrorism which we will eradicate completely from the face of the earth
From this day forward it's going to be only America first
It is the right of all nations to put their own interests first
We will get our people off of welfare and back to work, rebuilding our country with American hands and American labour
When you open your heart to patriotism there is no room for prejudice
We must speak our minds openly, debate our disagreements honestly, but always pursue solidarity.
When America is united America is totally unstoppable
We will be protected by our great men and women of our military and law enforcement. We will be protected by God.
When you open your heart to patriotism there is no room for prejudice
I will fight for you with every breath in my body and I will never, ever let you down.
Whether we are black or brown or white, we all bleed the same red blood of patriots
Together we will make America great again. Thank you, God bless you, and God bless America!