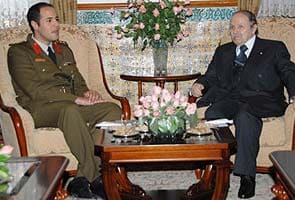 Tripoli, Libya:
A senior Libyan government official has denied rebel reports that Moammar Gaddafi's youngest son was killed in a NATO airstrike on the western town of Zlitan.
Deputy Foreign Minister Khaled Kaim says Khamis Gaddafi is alive and spoke to Libyan government officials to confirm his well-being.
Rebels in the eastern opposition stronghold of Benghazi have said that Khamis was among 33 troops killed in a NATO strike early on Friday in a government operations centre in Zlitan.
NATO says there was bombing around Zlitan on Thursday.
Zlitan is 90 miles (140 kilometers) southeast of Tripoli. Khamis runs Libya's 32nd Brigade, which has been fighting the rebels in Zlitan.