Kathmandu:
At least 50 people have died after
a US-Bangla Airlines plane
from Dhaka with 67 passengers and four crew members on board
crashed near Tribhuvan International Airport
in Nepal's capital Kathmandu as it was coming in to land, airport officials said. The plane had hit an airport fence and subsequently burst into flames, an airport official told news agency Reuters. After hitting the airport fence, the plane crashed onto a nearby field. Airport officials said in a statement, that the Bombardier Dash 8 Q400 plane was
"out of control,"
according to news agency AFP.
Smoke was seen by many witnesses at the crash site. Live footage posted on Facebook and photographs shared on social media
showed tall columns of smoke
from the crash site. Firefighters rushed in and managed to put out the flames of the burning wreckage, according to photographers. Army personnel and rescue workers were also seen at the crash site.
"We have recovered 50 dead bodies so far," Nepal army spokesperson Gokul Bhandari told Reuters. Charred bodies recovered from the wreckage of the aircraft were covered with cloth on the airport's tarmac, according to witnesses. Nine passengers have yet to be accounted for. US-Bangla Airlines spokesman Kamrul Islam told news agency AFP that 33 of the passengers were Nepali, 32 were Bangladeshi, one was Chinese and one from the Maldives.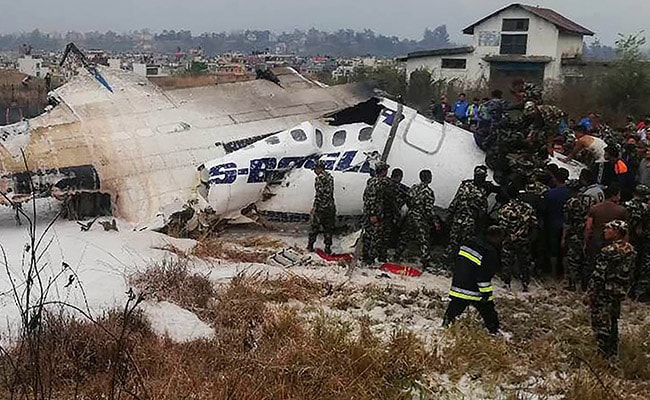 The aircraft was at least 17 years old, according to data accessed by Reuters from tracking website Flightradar24.com. The plane descended to an airport altitude of 4,400 feet, then ascended up to 6,600 feet, after which it crashed two minutes later.
Mountainous Nepal has a poor air safety record. A Thai airways flight from Bangkok had earlier crashed while trying to land in Kathmandu in 1992, killing everyone on board.
US-Bangla Airlines is a unit of the US-Bangla Group, a US-Bangladeshi joint venture company. The airlines started operating in July 2014, with its first international flight taking off in May 2016 to Kathmandu. It operates with routes across South Asia, the Middle East and Southeast Asia. In 2015, one of its planes had overshot the runway on landing at Saidpur in northwest Bangladesh, with no reports of injuries.
According to its website, the airlines launched with the motto of "Flay Fast Fly Safe."
(With inputs from Reuters and AFP)
Get Breaking news, live coverage, and Latest News from India and around the world on NDTV.com. Catch all the Live TV action on NDTV 24x7 and NDTV India. Like us on Facebook or follow us on Twitter and Instagram for latest news and live news updates.