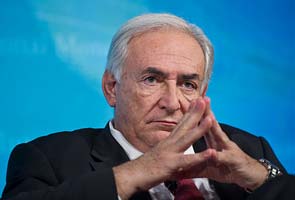 New York:
Dominique Strauss-Kahn, the leader of the International Monetary Fund, was ordered on Monday to be held without bail over allegations that he had sexually assaulted a maid in a $3,000-a-night suite at a Midtown hotel.
Prosecutors had asked the judge, Melissa Jackson, supervising judge of Manhattan Criminal Court, to remand Mr. Strauss-Kahn, 62, contending that he was a flight risk. They also highlighted the serious nature of the allegations.
"The defendant restrained a hotel employee inside of his room," said John McConnell, an assistant district attorney. "He sexually assaulted her and attempted to forcibly rape her," and when that failed, he forced her to perform oral sex.
Benjamin Brafman, one of Mr. Strauss-Kahn's lawyers, argued that "there is a very very defensible case and he should be entitled to bail." He added that his client was not trying to flee when he was arrested on an Air France plane that was about to take off from Kennedy International Airport on Saturday.
Mr. Brafman said that Mr. Strauss-Kahn's travel plans had been set for some time, and he indicated that there was evidence that between the time of the alleged attack and his flight, Mr. Strauss-Kahn was in the area, taking care of other business.
But Judge Jackson ruled against Mr. Strauss-Kahn, and returned him to custody.
Mr. Strauss-Kahn's appearance in Manhattan Criminal Court, which lasted only 26 minutes, capped a 43-hour odyssey through New York's criminal system. He was arrested, held in a special cell in East Harlem, placed in a police lineup, and submitted to a forensic medical exam for possible evidence. He even was subjected to a ritual familiar to high-profile suspects: the so-called perp walk, providing newspapers around the world with a front-page picture of Mr. Strauss-Kahn being led away from a police station in handcuffs.
He first appeared in Criminal Court at 10:49 a.m., brought in from the back-room cells to the gasp of a rows packed tightly with reporters. Some stood up to get a glimpse of him as he sat on a bench with other defendants. Court officers quickly admonished the reporters to sit down.
But just eight minutes after he had been brought into the courtroom, Mr. Strauss-Kahn was ushered back out by a police officer wearing a short-sleeved polo shirt, signaling an even further delay in the arraignment.
Mr. Strauss-Kahn looked just as he had the day before -- in a dark, full-length coat, hands cuffed behind his back and a stern gaze on his face.
The long wait for Mr. Strauss-Kahn's arraignment unfolded as an international corps of reporters, photographers and camera crews were crowded outside the courtroom because there was not enough seating to accommodate everyone.
On Sunday afternoon, Mr. Strauss-Kahn's accuser picked him out of a lineup in East Harlem, where he was being held at the Special Victims Unit, and new details emerged on how he came to be taken into custody.
The authorities said they had moved to obtain a court order granting them a search warrant to examine Mr. Strauss-Kahn for signs of injury that he might have suffered during a struggle or for traces of his accuser's DNA.
"Things like getting things from under the fingernails," a law enforcement official explained, "the classic things you get in association with a sex assault."
The official, who insisted on anonymity because the investigation was continuing, added that since there was a high likelihood that Mr. Strauss-Kahn would be allowed to post bail, investigators feared that he might leave the country with whatever clues his body might provide.
As the court order was being sought, the woman who told the police on Saturday that she had been attacked by Mr. Strauss-Kahn picked him from the lineup on Sunday, the police said.
After identifying Mr. Strauss-Kahn about 4:30 p.m., the woman, a maid at the Sofitel New York on West 44th Street, where Mr. Strauss-Kahn was a guest, left the Special Victims Unit in a police van. A blanket was covering her head.
The law enforcement official said that the police were called to the hotel about 1:30 on Saturday, but that when they arrived, Mr. Strauss-Kahn had already checked out. At some point, Mr. Strauss-Kahn called the hotel and said that his cellphone was missing. Detectives then coached hotel employees to tell him, falsely, that they had the telephone. According to the law enforcement official, Mr. Strauss-Kahn told them he was at Kennedy Airport about to get on a plane.
The police have provided few details about the woman at the center of the case beyond saying she was 32 and an African immigrant.
According to the law enforcement official, the woman entered Mr. Strauss-Kahn's suite early Saturday afternoon by saying "housekeeping." She heard no answer. She left the door open behind her, as is hotel policy.
She went to the bedroom and saw a man rush from the bathroom to the bedroom, naked. She apologized, the law enforcement official said, and tried to leave.
But according to the official, the man ran after her, grabbed her and shut the door, locking it. He then pulled her toward the bedroom, the official said, and tried to attack her there.
He pulled her to the bathroom, the official added, and forced her to perform oral sex. The police said the woman eventually escaped from the suite and reported the attack to other hotel personnel, who called 911.
The woman lives in the Bronx with a daughter who is in her teens. The building's superintendent said she had moved in a few months ago.
"They're good people," said one neighbor. "Every time I see her I'm happy because we're both from Africa. She's never given a problem for nobody. Never noisy. Everything nice."
At the Sofitel New York, another maid, who refused to give her name, described the woman who had made the accusation against Mr. Strauss-Kahn as a friendly person with a family. "In the world, she is a good person," she said.
The maid added that her superiors had asked other hotel employees not to question the woman about the matter.
"The office said, 'Don't ask too much because she is sad,' " the maid said. "Just give her a hug when she comes back."
A guest at the hotel, Mortem Meier, 36, a sales director visiting from Norway, said the black-car driver who ferried Mr. Strauss-Kahn to Kennedy Airport was also his driver on Saturday night.
"He said Strauss-Kahn was in a huge hurry," Mr. Meier recalled. "He wanted to leave as soon as possible. He looked upset and stressed, the driver said."
Follow NDTV for latest election news and live coverage of assembly elections 2019 in Maharashtra and Haryana.
Subscribe to our YouTube channel, like us on Facebook or follow us on Twitter and Instagram for latest news and live news updates.