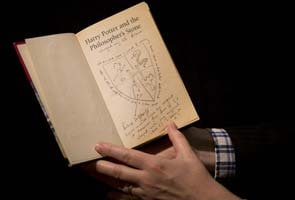 London:
JK Rowling's personal copy of the first Harry Potter book, complete with handwritten notes and illustrations by the famed author, has sold for a record 1,50,000 pounds at auction in London.
After a bidding war between two buyers the book sold for 150,000 pounds, a new record for a printed book by Rowling, BBC News reported.
The largest amount paid for a JK Rowling book was the 2 million pounds fetched in 2007 by a handwritten copy of Tales of Beedle the Bard.
"The sale room fell silent as two determined bidders vied for the prized edition," said a spokesperson for Sotheby's in London.
"Bidding leapt in increments of up to 25,000 pounds and the hammer finally fell, to a round of applause, on a 1,50,000 pounds telephone bid," the spokesperson said.
Rowling's personal annotations in the first edition of Harry Potter and the Philosopher's Stone cover 43 pages and include references to the Harry Potter series as a whole and also the film adaptations.
Her notes include a reflection on an anomaly in chapter four about snapped wands and a section of text she refused to cut.
Rowling also talks about the genesis of the fictional game of Quidditch.
Quidditch, she writes "was invented in a small hotel in Manchester after a row with my then boyfriend.
"I had been pondering the things that hold a society together, cause it to congregate and signify its particular character and knew I needed a sport."
The broomstick-based pursuit, she continues, "infuriates men which is quite satisfying given my state of mind when I invented it."
Rowling's 22 original illustrations include drawings of an Albus Dumbledore chocolate frog card, a brooding Snape, Norbert the Norwegian Ridgeback dragon and a man with two faces.
The book was part of a sale of annotated first edition books by 50 UK and Commonwealth writers. The sale raised a total of 4,39,200 pounds for English PEN.
The second-highest price of the auction was achieved by a copy of Matilda by Roald Dahl, with new illustrations by Quentin Blake, which sold for 30,000 pounds.