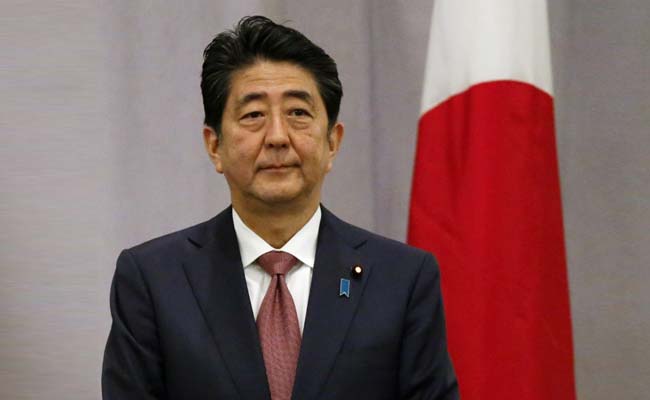 United Nations, United States:
Japanese Prime Minister Shinzo Abe on Wednesday declared the time for dialogue with North Korea to be over and rallied behind a US warning that "all options" are on the table.
Addressing the UN General Assembly, Abe said "there is not much time left" to take action on North Korea, which in recent weeks has detonated a sixth nuclear bomb and fired a series of missiles over or near Japan.
A day after US President Donald Trump threatened to "totally destroy" North Korea if it attacks, Abe said: "We consistently support the stance of the United States: that 'all options are on the table.'"
Abe said that the world has already tried exhaustively to reach a negotiated settlement with North Korea, starting with the US-backed 1994 Agreed Framework that collapsed a decade later.
"Again and again, attempts to resolve issues through dialogue have all come to naught. In what hope of success are we now repeating the very same failure a third time?" he said.
"What is needed," he said, "is not dialogue, but pressure."
US Vice President Mike Pence, addressing the UN Security Council on Wednesday, repeated that "all options are on the table" -- even if he used more traditionally diplomatic language than Trump.
"If we are forced to defend ourselves and our allies, we will do so with military power that is effective and overwhelming," Pence said.
Concern elsewhere on Trump
Abe demanded strict implementation of UN sanctions on Kim Jong-Un's regime, the latest round of which includes a ban on the country's textile exports and a freeze on work permits to North Korean guest workers.
But years of sanctions have had limited effect on North Korea, which follows a "juche" ideology of self-reliance and counts on neighboring China as its economic lifeline.
China -- which has grown frustrated by Kim's actions but also fears the consequences of his regime's collapse -- has repeatedly urged dialogue, with Foreign Minister Wang Yi on Tuesday urging an end to the "current deepening vicious cycle."
Chancellor Angela Merkel of Germany, like Japan a close ally of the United States, said Wednesday she had a "clear disagreement" with Trump.
"I am against such threats," said Merkel, who has been openly critical of Trump in the runup to Germany's election on Sunday.
"We believe that any kind of military solution is completely deficient and we support diplomatic efforts," she told radio station Deutsche Welle.
At the United Nations, Swedish Prime Minister Stefan Lofven also voiced concern over Trump's bellicose tone and urged dialogue in tandem with the sanctions.
"There is no military solution because that would be a disaster, not only for North Korea but for South Korea, the whole peninsula, Japan," Lofven told reporters.
Kim's 'smirk' to world
Seoul, one of the world's biggest cities and economic engines, lies just 55 kilometers (35 miles) from North Korean frontlines -- meaning millions of lives could be at risk if conflict breaks out.
South Korean President Moon Jae-In is a longtime dove but has agreed with Trump to ratchet up pressure on North Korea in the face of the crisis.
Abe warned that global credibility was on the line, saying North Korea was on the threshold of mastering hydrogen bombs and intercontinental ballistic missiles that would be able to strike the United States.
"North Korea is attempting to dismiss with a smirk the efforts towards disarmament we have assiduously undertaken over the years," Abe said.
Abe, Japan's longest-serving post-World War II prime minister, rose to political prominence on his calls for a tough line on North Korea and has put a top priority on revising the US-imposed pacifist constitution.
(Except for the headline, this story has not been edited by NDTV staff and is published from a syndicated feed.)