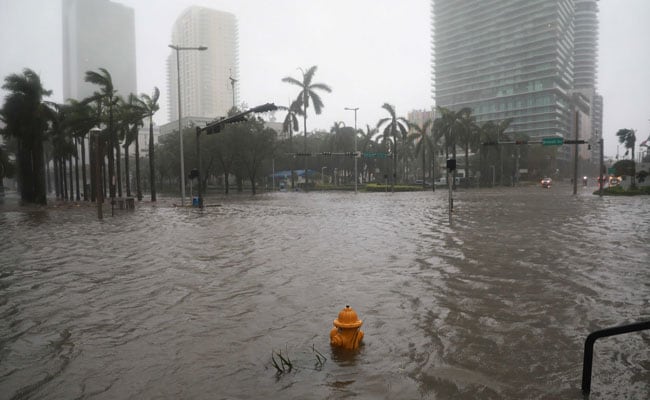 Key West, Florida, US:
Hurricane Irma pushed swelling seas toward the populous Tampa Bay area on Monday as the giant vortex of rain and wind lost some of its punch but still threatened danger as it continued up Florida's Gulf Coast, bringing storm surges and raging downpours.
Irma had weakened Monday morning to a tropical storm as it moved about 100 miles north of Tampa, according to the National Hurricane Center, which said it was still producing some wind gusts near hurricane force.
Even as Irma was expected to continue weakening as the storm headed inland - forecasters say Irma, which fell to a Category 1 storm earlier Monday, should be a tropical depression by Tuesday afternoon - it continues to have remarkable reach, with hurricane-force winds extending 60 miles from the center and tropical-storm-force winds reaching more than 400 miles from the center.
The storm spent Sunday grinding along Florida's southern tip with devastating fury - flattening homes, flooding the Keys and causing more than 5 million power outages - but even as it weakened, Irma was still not through.
The dense cluster of cities and suburbs around Tampa faced storm surges up to 6 feet above high tide - which could test the defenses of an area whose population has exploded in the past decades. The National Hurricane Center said storm surge warnings could remain in effect for Tampa and other areas for days as Irma churns up the Gulf, heading toward the panhandle on Monday afternoon before crossing into Georgia and on to Alabama.
Irma's force might be diminished, but its potential for flash floods and staggering rainfall was not. Up to 15 inches of rain was possible in some areas of the Panhandle and southern Georgia as Irma's course tracks to the northwest.
The Tampa Bay region has dodged a direct hurricane hit for nearly a century. But Jason Penny, a spokesman for Tampa Fire Rescue, said "reality has settled in."
"Now we realize that it's our turn," he said on Sunday.
Tampa Mayor Bob Buckhorn said the city was spared "a punch in the face" as Irma swung farther to the west. But he told MSNBC's "Morning Joe" that emergency teams were deployed to keep people off the streets "when that surge comes."
Meanwhile, even as Irma's center pivoted around South Florida on Sunday, sparing the densely-populated area the direct hit many had feared, its incredible reach meant that its impact still reverberated through that region and beyond.
Irma was everywhere. Irma was Florida's storm. In the east, the hurricane's spiraling rainbands were so wide that they caused tornadoes and flooding in Miami, on Florida's opposite coast. In the west, winds were so powerful that they bent the Gulf of Mexico itself to Irma's shape. In Tallahassee, the capital, forecasters warned that strong winds would continue into Monday afternoon. In Jacksonville, all the way in Florida's northeastern corner, the National Weather Service issued a flash flood emergency for the city as rain was expected to swell the St. Johns River.
In Naples, and in Tampa Bay, water actually disappeared from Gulf beaches, because Irma's counterclockwise winds were pulling it out to sea. But not for long.
"MOVE AWAY FROM THE WATER," the National Hurricane Center warned, as curious onlookers climbed out onto the mysteriously dry seabed, moving so fast that it left manatees forlornly stranded. Later, after Irma's eye had passed, the same forces drove the water back in powerful surges.
By the end of the day Sunday, Florida officials said there were shelters open in 64 of Florida's 67 counties - 573 shelters across the state, holding 155,000 people. More than 5.7 million customers were without power as of dawn Monday, about 58 percent of the state's customers, according to Florida emergency officials.
Irma's arrival as a Category 4 hurricane - the second-most powerful category, with sustained winds of at least 130 mph - made history. Hurricane Harvey also hit Texas as a Category 4 storm, which marked the first time on record that two storms that powerful had made landfall in the United States in a single year. Scientists say that climate change is now making such intense hurricanes more likely, since hurricanes draw strength from warmer ocean waters.
And Irma seems likely to make more history before she is finished.
As the storm headed for Georgia, the city of Atlanta - hundreds of miles from any coast, and more than 600 miles north of the place where Irma first hit the mainland - was placed under its first-ever tropical-storm warning.
Late Sunday, President Trump signed a disaster declaration that should speed federal funding to damaged areas in Florida. On the same day, a White House official - social media director Dan Scavino, Jr. - shared a photo of a flooded runway on Twitter. "Here is Miami International Airport," he wrote.
It was not. Officials at Miami International tweeted back to say that Scavino was wrong. It was unclear what airport was depicted, which has circulated online for at least a few weeks.
With the storm still blasting Florida on Sunday, it was too early to count the damage fully. For those in the middle of the storm, anticipation of fear turned to fear itself.
"I'm terrified," said Darla Taliaferro, 40, who was staying at a Hampton Inn in Estero, on the Gulf Coast. As Irma hit the town, she had taken shelter at a hotel where her husband Jason, 35, is an employee.
With them were their children, Ramielle, 9, and Jason Jr., 8, as well as her two parakeets, Desi and Luci.
In the middle of the storm, there was a knock on their door. They had to leave their hotel room. The winds were shifting, and that side of the hotel wasn't safe.
The instructions: leave valuables in the bathroom, and come to the lobby. Quickly.
"I want safety," Taliaferro said, noting that being asked to leave her 4th floor room frightened her a lot. "My heart went, 'Oh my God!' It's my first hurricane but I can't let the kids see how scared I am."
For residents of South Florida, Irma was a storm they'd spent the past week waiting for.
But it didn't arrive in the place they'd been waiting for it.
For days, as Irma battered Caribbean islands and fattened up on warm waters, it had seemed most likely to hit Miami and then target cities along the Atlantic Coast. Evacuations were issued there, sending people streaming north and west. Some people fled across the state, mistakenly thinking the Tampa area would be spared.
Everyone watched the storm, and waited for the turn.
At some point, meteorologists said, prevailing winds would knock into Irma like a giant pool ball, redirecting it to the north. But where, exactly, would that turn happen?
Overnight Saturday, they finally knew.
"Irma has made its long-awaited turn," reported the National Hurricane Center in its 5 a.m. advisory. Instead of aiming the storm's eye at Miami, the turn left Irma tracking further west, on a path up the state's Gulf Coast toward cities including Naples, Fort Myers and eventually Tampa and St. Petersburg.
"People have asked what can we do, the first thing I tell them is: pray," Gov. Rick Scott, R, said in a morning interview with Fox News. "Pray for everybody in Florida."
The storm hit Cudjoe Key at about 9:10 a.m. Key West - further south, at the end of the chain - endured hours of unrelenting rain and high winds, which seemed to peak at about 7 a.m. Though the hurricane felled many trees on the small island and caused some property damage, predictions of potentially catastrophic storm surges and flooding didn't materialize.
Low-lying areas of Key West, especially in the tourist-heavy streets near the Key West Bight, flooded on Sunday, with deep standing water along Caroline and Front streets. Some areas had three feet of water and were impassable by car, but there were many areas of the island that saw no flooding at all. One apartment complex lost its roof.
Officials estimated that about 25 percent of Key West's residents stayed through the storm despite evacuation orders. Several people on the island said they felt like they got lucky because the storm wasn't as bad as expected, but they also now are in the dark: There was no power, water or cellphone service as of Sunday evening, meaning there was almost no way to communicate with the outside world.
It is unclear how long it will take for Key West to regain those essential services.
After it blasted the Keys, the storm moved into open water again, headed for Florida's mainland.
Miami-Dade Police Department director Juan Perez said his officers have yet to do damage assessments. He said he had heard no reports of looting. The big problem was the downed trees, he said. "I think it's worse than Wilma," he said, referring to the hurricane that hit South Florida in 2005.
And it rained everywhere; some areas of the state got between 10 and 14 inches of it.
Back in the hurricane's direct path, Irma was getting closer. At 3 p.m. in Naples, winds were gusting to 82 miles per hour. The water levels dropped four feet below normal. Beaches went dry. The water was out there someplace.
Then: landfall again.
By 4:35 p.m. in Naples, the gusts were at 142 miles per hour. And the water was rising again: one gauge showed a five-foot rise in 40 minutes. In Estero, just up the coast from Naples, palm trees began to blow sideways.
By 6 p.m., the storm had weakened to a Category 2 hurricane, with sustained winds of 110 miles per hour. The storm itself was moving at an excruciating 14 miles per hour, up the coast toward Tampa and St. Petersburg - a metropolitan area of 3 million people that had not seen a major hurricane since the 1920s.
On Monday, people further north were taking precautions against the storm.
"I'm doing what I should have done three days ago," said Mike Merrill, who lives in St. Augustine, near Florida's northeast edge. Though Irma had struck the opposite corner of the state, he expected it would bring strong winds to his home on Monday. So Merrill, who runs an animal-rescue operation, had hunkered down with a generator, some loaves of bread, cases of LaCroix fizzy water, 11 dogs, a cat, and five bags of dog biscuits.
"We have enough food to last awhile," Merrill said. If food ever ran low, he said the pecking order in the house would be: "Dogs first. Then people."
(This story has not been edited by NDTV staff and is auto-generated from a syndicated feed.)