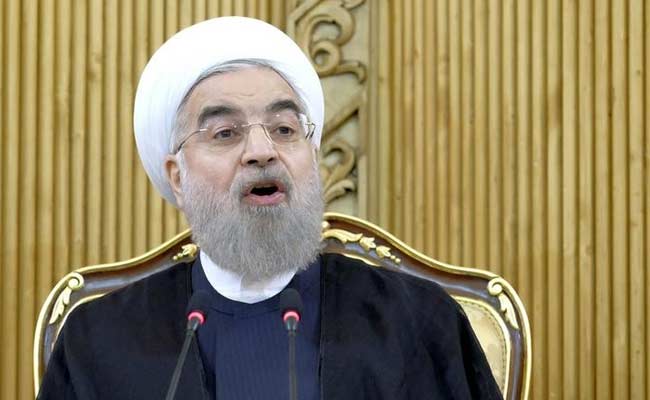 Dubai, UAE:
President Hassan Rouhani reaffirmed on today he expected sanctions on Iran to be lifted by year-end, a week after its clerical supreme leader ordered restrictions that could delay the implementation of Tehran's nuclear deal with world powers.
"According to our plans, the oppressive sanctions against the Islamic Republic of Iran will be lifted by the end of 2015," state news agency IRNA quoted Rouhani as saying during a ceremony to welcome the new Spanish ambassador to Tehran.
Under Iran's July 14 accord with the six powers, the Islamic Republic must dismantle large parts of its disputed nuclear programme before international sanctions over suspicions it had bomb-making purposes can be lifted.
Most analysts expect this process, which began on October 18, to take at least four to six months, but Rouhani has repeatedly said he expects sanctions to be lifted in December.
The process was further complicated last week when Supreme Leader Ayatollah Ali Khamenei, Iran's top authority, said Iran would not begin work on two key issues until United Nations inspectors issued a report on their investigation into possible military dimensions (PMD) to Iran's nuclear programme.
Ali Akbar Velayati, a top adviser to Khamenei, warned on todaythat the top leader's support for the deal depended on adhering to these and other restrictions. Iran has said its nuclear energy programme is for civilian applications only.
The International Atomic Energy Agency, the UN nuclear watchdog, is expected to issue the PMD report by December 15. That potentially could leave Iranian engineers little more than two weeks to revamp a heavy water reactor to ensure it cannot produce bomb-grade plutonium and to ship out 98 percent of the country's enriched uranium stockpile to meet Rouhani's timeline.
Any delays to the timeline are likely to disappoint Iranian voters, who will go to the polls in February for elections to parliament and the Assembly of Experts, a clerical body with nominal power over the Supreme Leader.
© Thomson Reuters 2015