Ankara:
Hundreds of Iranians took part in rallies across the country on Friday to condemn U.S. President Donald Trump's decision this week to recognise Jerusalem as Israel's capital, state TV reported.
Leaders of Iran, where opposition to Israel and support for the Palestinian cause has been central to foreign policy since the 1979 Islamic revolution, have denounced Trump's move, including his plan to move the U.S. embassy to Jerusalem.
State TV aired footage of marchers chanting "Death to America" and "Death to Israel", holding up Palestinian flags and banners saying: "Quds belongs to Muslims", using the Arabic name for the city. In several cities protesters burned effigies of Trump, Iranian media reported.
Iran regards Palestine as comprising all of the holy land, including the Jewish state, which it does not recognise. It has repeatedly called for the destruction of Israel and backs several terrorist groups in their fight against Israel.
Describing the United States and Israel as oppressors, Iran's Supreme Leader Ayatollah Ali Khamenei said on Wednesday that Trump's decision was a sign of incompetence and failure.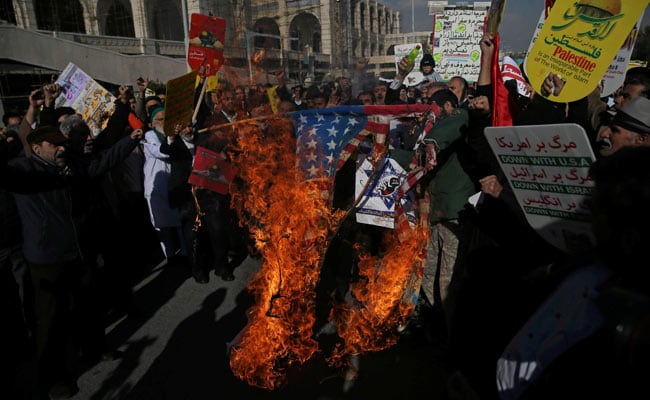 Opposition to Trump's move has united Iran's hardline and pragmatist factions, with both pragmatist President Hassan Rouhani and commanders of the hardline Revolutionary Guards urging Iranians to join nationwide "Day of Rage" rallies.
Some protesters burned pictures of Trump and Israeli Prime Minister Benjamin Netanyahu while chanting "Death to the Devil".
Rouhani rejected Trump's decision as "wrong, illegitimate, provocative and very dangerous".
Senior cleric Ayatollah Ahmad Khatami told worshippers at Friday prayers at Tehran University that Muslims around the world should unite against Israel, state TV reported.
"We will not leave Palestinians alone," worshippers chanted at Friday prayers in Tehran, TV reported.
Iran's army chief Major General Mohammad Bagheri said Trump's decision on Jerusalem was "unwise" and could fuel tension in the crisis-hit Middle East, Iran's state news agency IRNA reported.
(Writing by Parisa Hafezi; Editing by Peter Graff)
© Thomson Reuters 2017
(Except for the headline, this story has not been edited by NDTV staff and is published from a syndicated feed.)
Follow NDTV for latest election news and live coverage of assembly elections 2019 in Maharashtra and Haryana.
Subscribe to our YouTube channel, like us on Facebook or follow us on Twitter and Instagram for latest news and live news updates.