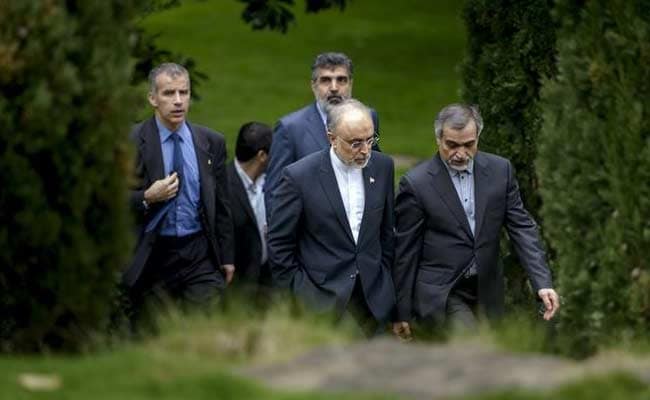 Lausanne, Switzerland:
Iran and European nations said Thursday they had reached a general understanding about next steps in limiting Tehran's nuclear program, but officials said that some important issues need to be resolved before a final agreement in June that would allow the Obama administration to assert it has cut off all of Iran's pathways to a nuclear weapon.
Both Germany's foreign office and President Hassan Rouhani of Iran said that key parameters of a framework for a final accord had been reached, with the details to be negotiated by June 30. But Western diplomats cautioned that on several of the key issues that were debated here for the past eight days between Secretary of State John Kerry and his Iranian counterpart, Mohammad Javad Zarif, there were still significant differences. Kerry was scheduled to give a news conference soon afterwards, at which he was expected to provide some details of the American understanding of what was negotiated.
According to European officials, roughly 5,000 centrifuges will remain spinning enriched uranium at the main nuclear site at Natanz, about half the number currently running. The giant underground enrichment site at Fordo - which Israeli and some U.S. officials fear is impervious to bombing - will be partly converted to advanced nuclear research and the production of medical isotopes. Foreign scientist will be present. There will be no fissile material present that could be used to make a bomb.
A major reactor at Arak, which officials feared could produce plutonium, would operate on a limited basis that would not provide enough fuel for a bomb. In return the European Union and the United States would begin to lift sanctions, as Iran complied. but the timing was left unclear.
The announcement was made at a university in Lausanne, with Kerry standing with his fellow foreign ministers. But the first statement came from the European Union's foreign policy chief, Federica Mogherini, and Zarif. "Today we have taken a decisive step. We have reached solutions on key parameters of a comprehensive political solution," the statement said.
Just minutes before the announcements, Zarif sent out a Twitter message saying the negotiators had "found solutions" and were, "Ready to start drafting immediately." Iran's president, Hassan Rouhani, sent a similar tweet.
President Barack Obama, who had been scheduled to depart just after noon for Louisville, Kentucky, for an economics speech, remained at the White House, where there was no word about his plans for the remainder of the day.
Obama administration officials have insisted that the current round of talks here produce more than a general understanding. They want a "quantitative dimension" - that is, specific limits on Iran's nuclear program that the White House can cite to push back against congressional moves for additional sanctions.
Washington and Tehran also differ over the economic sanctions imposed on Iran over its nuclear program. The United States wants to lift the sanctions in steps, tied to Iran's compliance with the agreement. But Iran's supreme leader, Ayatollah Ali Khamenei, who has the last word on any deal, has insisted that all the sanctions be lifted when the final accord is signed.
With their dueling news conferences, it appeared that Zarif and Kerry would try to tailor the perceptions of the final agreement to meet those specific political imperatives, though it was not clear how they would respond to each other's remarks.
Obama had set March 31 as a deadline for reaching a political accord to define the main terms of a final, comprehensive agreement due by the end of June.
The Obama administration has extended that self-imposed deadline. But at the same time the White House has warned publicly that it is prepared to step back from the diplomacy if it is clear that the initial accord cannot be reached.
An all-night round of talks ended at 6 am local time Thursday, or midnight Eastern time. Zarif noted that some diplomats had not slept, and fatigue was visible on the faces of some aides who straggled into the breakfast room of the luxury hotel here where the talks are being held under tight security.
Shortly before 11 a.m., the deliberations resumed as Kerry met with Mogherini and the chief diplomats of Britain, France and Germany. Russia and China, whose foreign ministers have left the talks, were represented by lower-ranking officials.
Zarif said the purpose of the meeting would be to assess the "solutions" that Iran had discussed with the Americans and their negotiating partners overnight.
The form of any understanding with Iran has been at issue for weeks.
But there have been other complicated questions, including how quickly sanctions on Iran might be eased and what nuclear research would be permitted on advanced centrifuges.
An idea to suspend certain U.N. sanctions temporarily but to arrange for them to automatically "snap back" into place if Iran does not fulfill its commitments under a nuclear accord has also prompted concerns from Russia that such a procedure might dilute the authority of its Security Council veto power.
For weeks, some critics have complained that the March 31 deadline the Obama administration had set for a preliminary accord might diminish its leverage in the talks by adding to the pressure on US negotiators to make last-minute concessions.
© 2015, The New York Times News Service