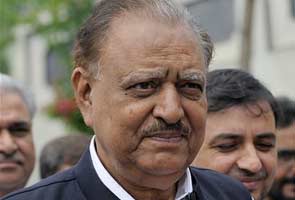 Islamabad:
Pakistan today elected businessman Mamnoon Hussain as 12th president of the nuclear-armed state, replacing the unpopular Asif Ali Zardari whose five-year term expires in September.
Lawmakers from both houses of the national parliament and four provincial assemblies voted Hussain into the ceremonial post in a move that will cement the authority of Prime Minister Nawaz Sharif.
Mr Hussain secured 432 votes and his only rival Wajihuddin Ahmed 77, Fakhruddin Ebrahim, head of the election commission, announced live on television.
"As a result Mamnoon Hussain is declared... President of Pakistan," he added.
The election completes an historic transition of power in Pakistan.
Mr Sharif in May won a commanding victory in a general election, which marked the first time a Pakistani civilian government had completed a full term in office and handed over to another at the ballot box.
Constitutional amendments passed by Mr Zardari's government mean that the presidency is again a ceremonial post, a status likely to be cemented by the fact that Mr Hussain has little personal clout.
Mr Hussain, who comes from the financial capital Karachi, gives the southern province Sindh at least a token stake in the central government otherwise dominated by Sharif's Punjab powerbase.
His background in textiles and as an ex-president of the Karachi Chamber of Commerce and Industry also reflects the government's number one task of reviving the stagnant economy.
Other analysts stress that his status as a long-serving but low-profile member of Mr Sharif's ruling Pakistan Muslim League-N (PML-N) party makes him totally dependent on the prime minister.
In a sharp reminder of the country's instability, the election took place hours after dozens of Taliban militants stormed a prison in the northwest, escaping with more than 240 inmates.
Mr Hussain will formally preside over a government that must solve a debilitating power crisis, and preserve a US alliance complicated by drone attacks and the US withdrawal from Afghanistan.
The softly spoken 73-year-old with a quiet smile had been certain to win.
Mr Zardari's opposition Pakistan People's Party lost heavily in the May election and boycotted today's ballot, complaining that the vote was brought forward from August 6.
The only other candidate, retired judge Ahmed, was nominated by the Pakistan Tehreek-e-Insaf, the third largest party in parliament and led by cricket hero Imran Khan.
Mr Hussain's low profile is expected to provide a stark contrast to Mr Zardari, considered a sharp political operator behind the scenes.
Born in India before partition of the subcontinent he and his family migrated to Karachi, along with hundreds of thousands of other Muslims from across the border.
He briefly served as governor of the southern province of Sindh, of which Karachi is the capital, under Mr Sharif's last premiership in 1999.
On the eve of the election, Mr Hussain told PML-N supporters in the capital Islamabad that the presidency was a symbol of the federation of Pakistan, and vowed to serve the country and its people.
"He had no political affiliation until 1999 but his polite discourse and professional ability impressed Nawaz Sharif, who made him governor of Sindh," said Azhar Haroon, current president of the Karachi Chamber of Commerce and Industry.