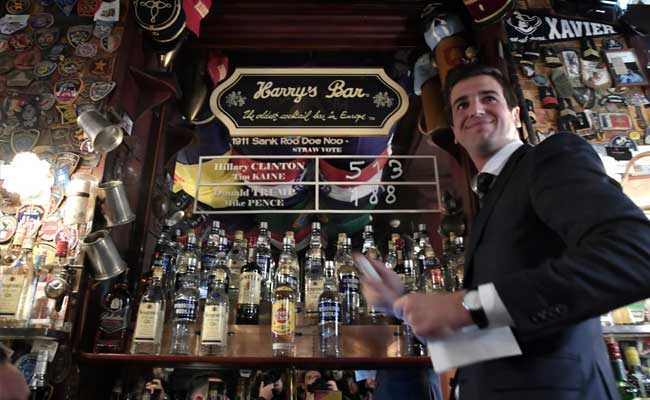 Paris:
Hillary Clinton scored a landslide victory Tuesday in a traditional Harry's Bar "straw poll", garnering 513 votes to 188 for Donald Trump at the legendary Paris watering hole.
"Harry's Bar never fails" to pick the winner, the owner Isabelle MacElhone told AFP before adding: "Well, hardly ever."
In fact, Harry's has missed the mark only twice in nine decades - first when Democrat Jimmy Carter won in 1976 and then in 2004, when Republican George W. Bush was re-elected.
Frenchman Michel Michel, who runs a gay bar in Paris, said he hoped the straw poll was right, fearing repercussions beyond US shores of a homophobic Trump presidency.
"The gay community was afraid, so now we are very happy," the 58-year-old said.
At its quadrennial US election night vigil, punters knocked back the night's specially concocted cocktails: the Hillaryous and the Trumpet.
A Trump voter, Andy Roughton, was ambivalent.
"Most European Americans... voted for Hillary because they don't know Trump, but look at her record... whatever the prevailing wind is she's for it. I voted for Trump but I don't like him either."
The mahogany-panelled bar, which marked its centenary five years ago, launched this year's traditional "straw poll" in early October, with US ambassador to France Jane Hartley casting the first ballot.
On Tuesday, the bar's high ceiling was draped with the flags of the 50 US states, and campaign posters shared space on the walls with the usual football and baseball pennants.
Big-screen TVs at either end of the bar - on mute - dribbled out early projections as the cocktails flowed.
Reflecting a nearly universally held view that the 2016 election has been agonising for millions of Americans, one was called Bloody Vote.
It was just Tuesday's moniker for Harry's signature Bloody Mary, invented at the bar decades ago.
French and Americans alike bemoaned the choice of candidates.
"I consider Trump to be cancer and Hillary to be gonorrhoea," said Robert Woodruff Smith, 50.
"But you can survive gonorrhoea."
Smith, a regular at Harry's since 1989, was proudly sporting his International Harry's Barfly lapel pin.
- 'North Korean' choice -
French estate agent Frederic Robert, 53, sporting a US flag on his lapel, said both options were poor, notably Trump. "Who's going to like The Donald?" he asked.
"In France it's better... France in the 21st century has the ability to produce a buffet, a real choice. The problem with the United States is that it is a North Korean ice cream shop -- you only have one flavour."
Harry's Bar, reconstructed piece by piece after being shipped from New York, was a favourite of expats such as Ernest Hemingway and F. Scott Fitzgerald.
They told their friends to memorise the phrase "sank roo doh noo" -- the way the bar's address 5 rue Daunou is pronounced with a thick American accent -- to give to the taxi driver.
Alek Markowski, 70, a Paris jeweller whose late father was a Polish diplomat who drank with Hemingway at the Paris saloon and in Cuba, had a dire view of the current election.
"America is selling itself short," he told AFP, saying he voted for Clinton but might as well have plumped for "Clump".
For her part, MacElhone, the widow of Harry's grandson Duncan, said she was appalled by the river of dollars that have flowed into the 2016 election.
"When you see the money that's been spent, it's a bit shocking," she said.
The "straw poll" dates to 1924, decades before Americans could send in absentee ballots, to allow expatriates to have at least a symbolic say in the outcome of their national election.
"Every four years we get this buzz," MacElhone said. "The Americans of Paris really expect it.... it's become an institution."