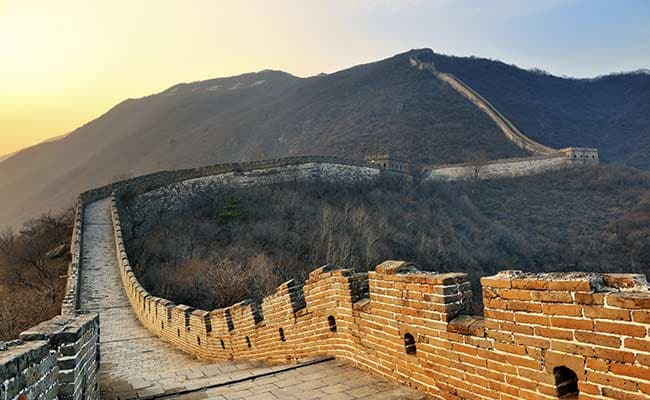 Dalian, China:
The plan here seems far-fetched - a $36 billion tunnel that would run twice the length of the one under the English Channel, and bore deep into one of Asia's active earthquake zones. When completed, it would be the world's longest underwater tunnel, creating a rail link between two northern port cities.
Throughout China, equally ambitious projects with multibillion-dollar price tags are already underway. The world's largest bridge. The biggest airport. The longest gas pipeline. An $80 billion effort to divert water from the south of the country, where it is abundant, to a parched section of the north, along a route that covers more than 1,500 miles.
Such enormous infrastructure projects are a Chinese tradition. From the Great Wall to the Grand Canal and the Three Gorges Dam, this nation for centuries has used colossal public-works projects to showcase its engineering prowess and project its economic might.
Now, as doubts emerge about the country's three-decade boom, China's leaders are moving even more aggressively, doubling down on mega-infrastructure. In November, for instance, the powerful National Development and Reform Commission approved plans to spend nearly $115 billion on 21 supersize infrastructure projects, including new airports and high-speed rail lines.
"China has always had this history of mega-projects," said Huang Yukon, an economist and senior associate at the Carnegie Endowment for International Peace, a think tank based in Washington. "It's part of the blood, the culture, the nature of its society. To have an impact on the country, they've got to be big."
Whether China really needs this much big infrastructure - or can even afford it - is a contentious issue.
The infrastructure plans run counter to Beijing's commitment to reduce its heavy reliance on government-led investment to fuel growth. And some economists worry that the country might eventually be mired in enormous debt.
According to China's National Audit Office, local government debt alone stood at about $3.1 trillion in 2013, more than a third the size of the entire economy. The high level of debt, analysts warn, could stunt growth for a long time.
"People should be concerned because very few of these big projects generate cash," said Victor Shih, a China specialist who teaches political economy at the University of California, San Diego.
And yet China's leaders are so confident of the value and necessity of building on an epic scale that engineers are mapping out plans for decades to come.
Shanghai is considered a model, a spectacularly rich metropolis of 25 million residents. Undergirding the city is a patchwork of supersize infrastructure - huge airports, subway lines, sewage systems and power plants.
In the city's thriving financial center, workers are putting finishing touches on the Shanghai Tower, a $2.4 billion cloud-piercer that at 2,073 feet is the world's second-tallest building. Only the Burj Khalifa in Dubai is taller, at 2,716 feet.
Further east, the city is building the world's largest playground, Shanghai Disney Resort, which when it opens around 2016 will be surrounded by a 225-acre Magic Kingdom-style park, a development expected to cost more than $5 billion. A city-owned company is helping finance the project.
Shanghai can afford the huge price tags. The fast-growing city is a financial center and a major tourist destination.
But other cities don't necessarily have the means to pay for such huge infrastructure projects.
In Tianjin, about 70 miles southeast of Beijing, the city has borrowed heavily to create what some have called a replica of New York City, with complexes modeled after Rockefeller Center and Lincoln Center. Today, though, the area is a virtual ghost town. Dozens of office towers and luxury developments sit empty, half completed.
And here in Dalian, a city of 6 million in the northeast, the proposed underwater rail tunnel to Yantai is just one piece of a master plan that includes a 163-mile urban transit system. Work is also underway on what the city says will be the world's largest offshore airport, a $4.3 billion development on an artificial island created with landfill, covering more than 8 square miles.
"It makes sense to accelerate infrastructure spending during a downturn, when capital and labor are underemployed," said David Dollar, the former country director in China for the World Bank and now at the Brookings Institution in Washington. But "if the growth rate is propped up through building unnecessary infrastructure, eventually there could be a sharp slowdown that reveals that the infrastructure was really not needed at all."
As a one-party state controlled by the Communist Party, China can easily muster the political will and financial resources to undertake such huge projects. And for now, it is backing - and even encouraging - municipalities to think big.
"They have an authoritarian system. And so they can do all this without opposition - this is key," said Gerardo del Cerro Santamaria, an expert on mega-projects at Cooper Union in New York. "In the West, civil society participates, and in many cases, opposes big projects."
Proponents say the giant projects can bring greater efficiencies. Big dams and wind farms can cut carbon emissions, while mass transit can help reduce oil consumption, thus delivering greener solutions.
Other huge projects could bolster China's position as a manufacturing and trading powerhouse. In November, the government said its freight rail link between eastern China and Spain had opened, allowing factory goods to reach Spain in just over 20 days. It is now the world's longest rail journey, far surpassing the route of the famed Trans-Siberian Railway.
China also sees hidden benefits in such projects, including the ability to gain new scientific and technical expertise.
As a result, bridge-building in China has become something akin to an Olympic event. In 2007, after China completed the longest sea-crossing bridge in Hangzhou, the nation has regularly broken records. China now claims the longest bridge of any kind, the highest bridge and, in 2011, a new successor to the longest sea-crossing bridge, 26.4 miles long, in the eastern city of Qingdao.
"For China, a lot of this is about building a national identity. Mega-projects are suited for that," says Bent Flyvbjerg, an authority on mega-projects who teaches at Oxford University. "It's a lighthouse for all to see what the Chinese nation can do."
© 2015, The New York Times News Service