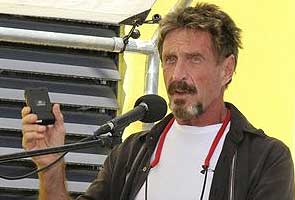 Miami:
Anti-virus software pioneer John McAfee said in a TV interview on Friday that he was willing to answer questions about the murder of his neighbor in Belize in a neutral country.
McAfee, who insists he is innocent, also admitted that he was worth "less than" $5 million -- a day after saying he was broke -- though it was unclear how he would access that money.
"I've said in any neutral country I will meet and answer any questions you want," McAfee told the CNBC business TV network.
"I'm certainly not going to turn myself into the authorities who have been trying to lay their hands on me for months now. I will not go back to Belize," he said.
Authorities in Belize want to question McAfee about the death of Gregory Faull, a 52-year-old Florida expatriate who was found by his housekeeper with a 9-mm bullet in his head, lying in a pool of his own blood.
McAfee fled Belize to Guatemala with his 20 year-old girlfriend, but was then deported to the United States. He says he went on the run because he feared for his life, claiming corruption among Belizean police and politicians.
Belize has an extradition treaty with the United States, so if murder charges are filed he could be sent back to the Central American nation.
McAfee, who is staying in a popular Miami Beach hotel, has become a local attraction. A cloud of reporters and TV news crews follow his every step.
"If I am charged, of course, I'll go through the process, but they are not going to charge me. Let me be clear: I had nothing to do with the murder of Gregory Faull," McAfee said.
McAfee was evasive when CNBC asked him about his fortune, which was once estimated at more than $100 million.
"My accountant may know what I'm worth. I have not asked him recently ... I'm 67 years old. I eat well and have enough money for food. And clothes. I really don't have a clue, sir," McAfee said.
When further pressed, McAfee said he was worth "less than $5 million, certainly."
And where is that money?
"I believe it's in the pockets of the politicians in Belize now. I think they're in the process of doing an acquisition of my resources," he said.
On Thursday, McAfee told ABC television in Miami that he has "nothing now" beyond some clothes, shoes, and cash a friend dropped off for him.
McAfee, who says a book and a movie is in the works as he sells his life story, earlier told AFP his immediate focus was getting his girlfriend Sam and another friend, Amy, into the United States.