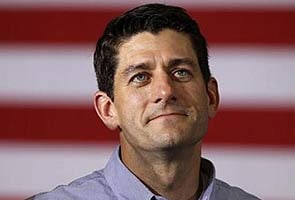 Minneapolis:
He's sold hot dogs in Minnesota and spent summers in Colorado. His mother lives in Florida and Ohio looks just like his native Wisconsin. Whatever the swing state, Paul Ryan finds a way to call it home.
Addressing one of his largest crowds of the 2012 presidential campaign, the Republican vice presidential candidate ticked off his many ties to Minnesota, one of a handful of states that Mitt Romney's team has visited in the final hours of the U.S. presidential race.
Ryan is from Wisconsin, Minnesota's neighbor and occasional friendly rival. But he boasted that he is often mistaken as one of the crowd's own.
"In (Washington) D.C., people say, 'Oh yeah, Ryan, you're the budget guy from Minnesota, right? I'm from Wisconsin. Close," Ryan said at the gathering at an airport hangar on Sunday evening.
Politicians often highlight connections to states they visit, hoping a little local pride will go a long way on Election Day. But few politicians can match Ryan.
In Minnesota, Ryan talked about the summer job he had selling Oscar Mayer products in northern part of the state. He mentioned his cousin, Terry, who works for the Minnesota Twins baseball team. He joked about needing better equipment for ice fishing, a passion in the state with long, cold winters.
Ryan's actual home happens to be a swing state, one of the nine or so battlegrounds likely to determine whether Romney and Ryan can defeat President Barack Obama and Vice President Joe Biden in Tuesday's election.
He spent three days there last week, telling voters about his passion for deer hunting and the state's dairy and farming traditions.
Ryan, who has represented a district in southern Wisconsin in Congress for 14 years, visited Green Bay on Sunday to shake hands with Packers fans, wearing the football team's green and yellow colors on his tie.
On Friday, he told supporters in Cedar Falls, Iowa, that his wife's mother's family comes from Iowa. Playing on the state's frugal reputation, he recounted how his wife Janna's grandmother once froze five ounces of dog food for months, worried that it would go to waste.
"That is Iowa fiscal conservatism. That is Iowa common sense," said Ryan.
Earlier that day, he told a crowd in Montrose, Colorado, that he visited their state each summer growing up.
"Janna and I spent our childhoods coming to Colorado every year. We love this state whether it's fishing, hunting, climbing, skiing, backpacking, just hanging out," Ryan said.
"This is God's country," he added.
On Saturday, Ryan flew to Panama Beach, Florida, where he reminded the crowd that his mother calls the state home.
And in Ohio, the campaign's most fiercely contested battleground, Ryan's enthusiasm knows no bounds.
Roving the state on an eight-stop bus tour late last month, he urged crowd to vote for the local - or almost local - guy.
Ryan likes to call Wisconsin and Ohio, "Big Ten" country, linking the two states by a shared college football conference.
"I look around here I feel like I'm 10 miles from my house, except our corn is already down by now," Ryan told a crowd of 2,000 in Yellow Springs, Ohio, one evening.
At a midday rally, Ryan reveled in the similarity between the names of his host, Zanesville, and his real home town.
"I almost said hello Janesville," Ryan said. "That's where I'm from."
© Thomson Reuters 2012