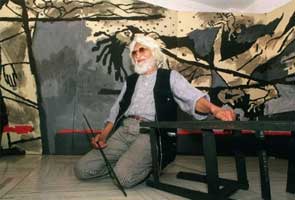 New York:
A collection of over 20 paintings by legendary artist M F Husain fetched $4.7 million at auctions held at the prestigious Christie's and Sotheby's. An auction for 11 masterpieces fetched a total of $557,500 with one of his paintings Man with Sitar selling for $146,500.
Eleven Husain paintings were on sale at Sotheby's, which presented Modern and Contemporary South Asian Art including Indian Miniature Paintings as part of its week of Asian art auctions.
However, proceeds from the Sotheby's auction paled in comparison to those generated at Christie's two days ago, where a single Husain work was sold for $1.14 million.
At the Christie's auction, Sprinkling Horses went under the hammer for $1.14 million, one of the highest amounts ever paid for the late master's work.
It was among the 13 paintings that were auctioned at Christie's sale of South Asian Modern and Contemporary Art. The 13 paintings were sold for a total of $4.2 million.
A legendary artist, whose work often landed him in controversy, Husain passed away in June this year at the age of 95. He was among the first and few artists from India to be in the 'one million dollar club'.
His Empty Bowl at the Last Supper was sold for $2 million in 2005, which was at that time the highest sum ever paid for a work of modern Indian art.
In 2008, Husain's Battle of Ganga and Jamuna: Mahabharata fetched $1.6 million, setting a world record at Christie's South Asian Modern and Contemporary Art sale.