Corpus Chisti:
Texans from the Louisiana border to the Hill Country in the middle of the state awoke to dire warnings of a major natural disaster Saturday as Hurricane Harvey charged inland, with weather officials downgrading it to a Category 1 storm but cautioning that the danger was far from over as the region braced for catastrophic flooding and potential tornadoes.
Images of downed trees, collapsed buildings and darkened streets began trickling in early in the day, after the storm roared ashore at 10 p.m. Central time Friday with 130 mph winds - the strongest hurricane to hit the United States since Wilma in 2005. Nearly 300,000 people across the state were without power Saturday morning and wastewater and drinking water treatment plants here were offline.
The storm made landfall near the city of Rockport, where fierce winds continued to blow Saturday morning. On social media, residents and others who rode out the storm there reported that buildings were leveled and the airport facilities flattened. Officials said it was too early to glean the scope of the destruction.
"We have not been able to completely assess damage with current winds at 90+," C.J. Wax, Rockport's mayor, said in an email to The Washington Post. "Widespread devastation unknown loss of life."
At the same time, Texans prepared for the next wave of the storm, which will play out over the course of the next several days as it stalls over the state, dumping buckets of rain in its wake. The National Weather Service said some locations in Southeast Texas had already reported 16 inches of rain by 5 a.m. Central time and predicted total rain accumulations of 15 inches to 30 inches in many areas, and as much as 40 inches in isolated areas.
"Please take the flooding threat seriously," the National Weather Service tweeted. "Remember, this is a multiday event . . . marathon not a sprint . . ."
Among the cities at risk of major flooding is Houston, the nation's fourth largest, with a population in excess of 2 million. Early Saturday morning, the city was buffeted by waves of torrential rain and lightning followed by periods of calm. In the southwest part of the city, the Brays Bayou was swelling with fast-flowing, debris-filled brown water.
In downtown Corpus Christi, the storm ripped shingles and satellite dishes from roofs, uprooted palm trees and knocked over street signs but the area avoided major flooding. The city, about 30 miles from Rockport, was spared the brunt of the storm.
Corpus Christi Mayor Joe McComb said city officials are just beginning to assess the damage and he has not received reports of widespread destruction. The power outage disrupted the city's waste water treatment plant and officials are asking residents to boil drinking water until further notice.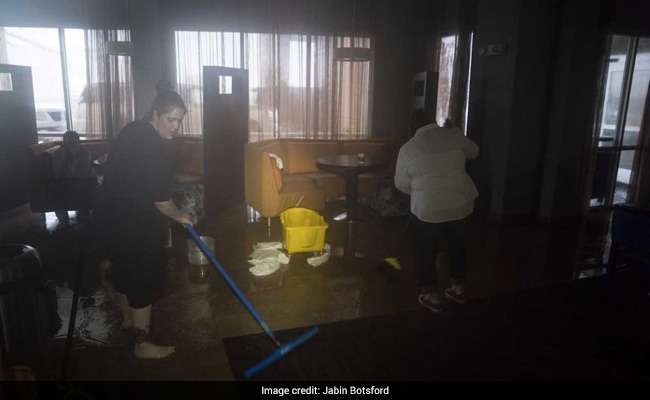 "The storm surge never happened, but the winds came in a whole lot higher than anyone predicted," McComb said. "Some areas also got hit with pretty hard rain, but I was impressed with how little rain we had at my house."
The 20-story Holiday Inn Marina hotel, where many relief workers and journalists rode out the storm, reported that it was running low on food. A note in the lobby and in elevators asked guests to use their own "emergency" food and water supplies before purchasing the hotel's dwindling supplies. The hotel is a major staging area for Red Cross officials who flew into the city ahead of the storm.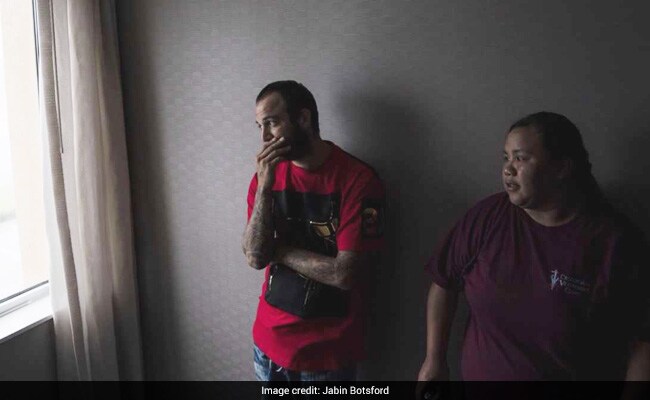 President Donald Trump said in a series of tweets Saturday morning that he is closely monitoring the situation from Camp David, and that federal officials have been on the ground since before the storm hit. He urged residents to "be safe" and pledged a thorough federal response. "We are leaving nothing to chance," he wrote. "City, State and Federal Govs. working great together!"
Forecasters and government officials scrambled to deal with a storm that caught them off guard this week after initially being a mere tropical depression in the western Gulf of Mexico. By Friday, they were warning of catastrophic flooding, ferocious winds and a storm surge that could reach 12 feet.
Soon after the outer bands of Harvey reached the South Texas coast Friday afternoon, Gov. Greg Abbott, R, urged citizens to evacuate low-lying and coastal areas immediately. President Trump said Friday night that he has signed a disaster proclamation in Texas after Abbott sent him a written request.
"The storm surge, coupled with the deluge of rain, could easily lead to billions of dollars of property damage and almost certainly loss of life," Abbott wrote. "It is not hyperbole to say that if the forecast verifies, Texas is about to experience one of the worst natural disasters in the history of the state."
Abbott is expected to provide another update at 11:45 a.m. Central time.
White House aides said that Trump would visit Texas next week.
Harvey is the first natural disaster faced by the Trump administration. The president on Friday tweeted that he had spoken with the governors of Texas and Louisiana and was "here to assist as needed."
On Saturday morning, he tweeted: "Closely monitoring #HurricaneHarvey from Camp David. We are leaving nothing to chance. City, State and Federal Govs. working great together!"
Harvey could drift back out over open water, drawing fresh energy from the warm gulf waters before meandering ashore again closer to Galveston.
That scenario would deliver historic amounts of rain to the region, with some models showing accumulations in feet rather than inches. Flooding is likely in and around Houston.
"Small streams, creeks, canals, and ditches may become raging rivers. Flood control systems and barriers may become stressed," the National Weather Service said in an advisory Friday.
Jennifer Cantrell, 37, a Houston social worker who endured Hurricane Ike in 2008, was buying four 40-pound bags of topsoil on Friday to place at the foot of her door in her first-floor apartment.
"We got to worry about all the folks who moved here in the last years and haven't seen a hurricane yet," she said outside a Citgo gas station, where she had stopped to stock up on cigarettes. "You've just got to be prepared to be indoors for days with no electricity, no water."
The Texas Military Department has deployed about 700 members of the State Guard and National Guard around the coastal region. Black Hawk and Lakota helicopter crews are on standby for search and rescue.
The American Red Cross has mobilized staffers from across the country. Paul I. Carden Jr., regional disaster officer for the Red Cross's National Capital Region in Washington, said in Corpus Christi that residents are foolish if they decide not to evacuate.
After the storm, the Red Cross will be providing cleanup kits, health and mental-health professionals, and spiritual-care workers to help residents cope, he said.
"This is going to try a person's faith," Carden said.
The Washington Post's Mary Lee Grant reported from Kingsville, Texas. Achenbach reported from Washington. Dylan Baddour in Houston, Ashley Cusick in New Orleans, and Mark Berman, Steven Mufson, Wesley Lowery and Jason Samenow in Washington contributed to this report.
(This story has not been edited by NDTV staff and is auto-generated from a syndicated feed.)