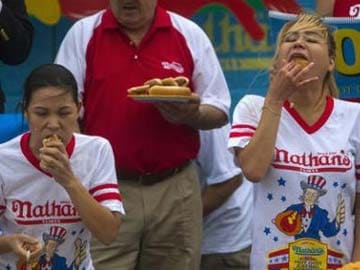 New York:
Hot-dog eating champs, backyard picnickers and small-town parade lovers pressed on with Fourth of July celebrations on Friday, some featuring less sizzle than usual after Hurricane Arthur dampened many Independence Day plans.
In Washington, President Barack Obama and his wife, Michelle, presided over a barbecue and concert on the White House South Lawn attended by members of the US military and their families.
"Today immigrants from around the world dream of coming to our shores. Young people aspire to study at our universities. Other nations look to our support and leadership at times of disaster and conflict and uncertainty," Obama said. "And when the world looks to America, so often they look to all of you, the men and women of our armed forces.
"Today we honour all of you," he said.
Hurricane Arthur travelled up the East Coast but did not wash out the annual Nathan's Famous Fourth of July International Hot Dog-Eating Contest in Coney Island, New York, where a slate of professional eaters competed for purses of $20,000.
World champion Joey "Jaws" Chestnut, 30, of San Jose, California, walked away with his eighth straight title after consuming 61 wieners and buns - short of his world record of 69 set in 2013. Runner-up Matt Stonie took down 56 hot dogs in 10 minutes.
Chestnut proposed marriage to his girlfriend on stage to roars from the crowd of about 1,000 people just before the competition.
The women's contest saw an upset, with rookie Miki Sudo, 28, of Las Vegas toppling reigning champion Sonya Thomas, eating 34 hot dogs in 10 minutes.
"I love watching the guys stuff their faces," said Barbara Hicks, 43, of Queens.
Hicks said she intended to try the amusement park rides, including the famous Cyclone roller coaster and the newly opened state-of-the art Thunderbolt.
"We're going to have fun no matter the weather," she said.
The evening's fireworks show in New York City was ready to go off as scheduled, but police said the barge used to stage the display in New York's East River was moved south below the Brooklyn Bridge due to an expected high rip current.
PEOPLE 'WANT TO TRAVEL'
Roads were expected to be jammed during the busiest summer travel holiday weekend, with 41 million people traveling 50 miles or more from home, the American Automobile Association said.
That marks a 1.9 percent increase over the 40.3 million people who traveled this time last year, AAA said.
Travellers can be undaunted by the weather, even Hurricane Arthur, experts said.
"People do try to err on the side of keeping their vacation plans in place. They want to go. They want to travel," said AAA spokeswoman Heather Hunter.
Erin Hutchinson, 36, a marketer from Pittsburgh, visiting family in Maplewood, New Jersey, said she was taking her children, Ava, 9, and Kane, 4, to ice-cream eating contests and a dog show that had been moved inside because of the damp weather.
"We have an indoors backup plan," Hutchinson said.
With the storm approaching, towns from Ocean City, Maryland, to Nashua, New Hampshire, delayed July 4 fireworks displays until Saturday. Many towns in Connecticut put off festivities, while the famed Boston Pops Fireworks Spectacular went off on Thursday, a day ahead of schedule, to beat the hurricane.
In California, a fast-moving wildfire near Julian, about 35 miles east of San Diego, destroyed 150 acres and two homes and prompted officials to cancel the local July 4 parade.
© Thomson Reuters 2014