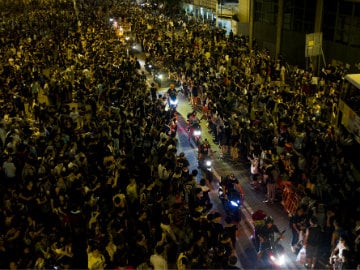 Hong Kong:
Hong Kong's security chief furiously denied the government had used triad gangs against pro-democracy protesters Saturday after accusations hired thugs had been brought in to stir up violent clashes.
Two of the city's busiest shopping districts descended into chaos on Friday as groups targeted protesters who have brought parts of Hong Kong to a standstill for the past week.
The protesters are demanding the right to nominate who can run as their next leader in 2017 elections, while Beijing has said only candidates it has approved will be able to stand.
China has accused democracy campaigners of destabilising the city and on Saturday said they were "daydreaming" over the prospect of change.
"The actions taken by Hong Kong police to handle Occupy Central are an inescapable necessity to preserve the rule of law," an editorial in Communist Party mouthpiece the People's Daily said.
Out of 19 people arrested during Friday's clashes, police said eight were suspected triads and Amnesty International blasted officers who "stood by and did nothing" to protect protesters.
"I have noticed that people have said the government has turned a blind eye towards the triads or even was cooperating with triads," an angry Secretary for Security Lai Tung-kwok told reporters, raising his voice.
"These accusations are made up and are very excessive," he said.
But democrat lawmaker Albert Ho said the police "seemed to show a lot of indulgence to triad activities".
"I have every reason to believe that must be the only option left to those in power in Hong Kong to see that the protesters are cleared from the public area," he told AFP.
"The only way is to allow someone else to do it, short of doing it themselves," Ho said.
Fellow democrat James To also pointed the finger at the authorities.
"I cannot believe that the experienced Mong Kok police could not identify triad gangsters," he was quoted as saying by the South China Morning Post.
"The government has used organised, orchestrated forces and even triad gangs in an attempt to disperse citizens."
Triad gangs have traditionally been involved in drug-running, prostitution and extortion but are increasingly involved in legitimate ventures such as property and the finance industry.
Some are believed to also have links with the political establishment and there have previously been allegations of triads sending paid thugs to stir up trouble during protests.
- Assaults and intimidation -
Fears of intimidation have replaced a previous sense of unity after Friday's ugly backlash, with reports of sexual assaults and attacks on journalists.
The violence prompted student protest leaders to scrap talks with the government, scuppering hopes of a resolution to the crisis.
Demonstrators compared the police "inaction" during the clashes to scenes last Sunday, when officers fired tear gas at peaceful crowds.
At a press briefing Saturday, police denied acting in concert with triads, adding that 12 people had been injured in the clashes, including six officers.
"Police in the small hours in different locations arrested 19 males," senior superintendent Patrick Kwok told media.
"Within the people who were arrested, eight were arrested for illegal assembly. We believe these have triad backgrounds," Kwok said.
There were widespread allegations of sexual assault in the packed crowds, with three girls seen being bundled into a police van in tears after apparently being assaulted at the Causeway Bay protest.
Journalists have also been targeted and the Hong Kong's Foreign Correspondents' Club voiced its concern Saturday over attacks on reporters.
"The Foreign Correspondents' Club... is deeply disturbed by these reports, especially those ascribed directly to police officers, or where police could have intervened but do not appear to have done so," it said in a statement.
But officials have blamed both sides for the escalation.
"I urgently want to express to all citizens, no matter what attitude you have towards Occupy (Central), you still have to remain calm, and not use violence or disrupt order under any situation," Hong Kong Chief Executive Leung Chun-ying, who is viewed by demonstrators as a Beijing stooge, said in a televised message.
Protest sites were tense with fears of further attacks by opposition groups.
Friday's clashes broke out as the city returned to work after a two-day public holiday with store owners and delivery drivers frustrated after a week of disruption to business.
Get Breaking news, live coverage, and Latest News from India and around the world on NDTV.com. Catch all the Live TV action on NDTV 24x7 and NDTV India. Like us on Facebook or follow us on Twitter and Instagram for latest news and live news updates.