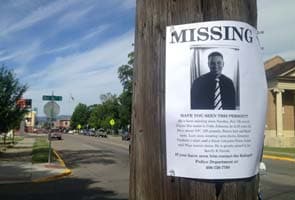 Los Angeles:
A newlywed US woman has been charged with murder for allegedly pushing her husband off a cliff barely a week after they married, according to court documents published on Tuesday.
Jordan Linn Graham appeared in court in the US state of Montana on Monday accused of second-degree murder over the death of her husband Cody in July in Glacier National Park, where they had gone hiking.
The 22-year-old initially told police her husband, 25, had gone missing after telling her he was going for a drive with a friend. But she subsequently admitted she had lied, and described how a cliff-top row turned to tragedy.
"Graham stated their argument intensified. At one point in time during their arguing, Graham turned and began to walk away. She stated Johnson grabbed her by the arm," said a police affidavit published the the Missoulian newspaper.
"After removing Johnson's hand from her arm, Graham stated she could have just walked away, but due to her anger, she pushed Johnson with both hands in the back and as a result, he fell face first off the cliff," it added.
Johnson's body was found on July 12 below The Loop, a well-known lookout area in the Montana park. An autopsy on July 19 concluded that the fatal injuries were consistent with a fall from a cliff.
The couple had married eight days before the July 7 alleged fatal encounter, the Missoulian reported.
A friend of the defendant identified as K.M., cited in the police affidavit, told detectives that Graham told her she was having second thoughts about having gotten married, and planned to talk to her husband about it.
Shortly before 9:00 pm on July 7 Graham texted her friend saying: "Oh well, I'm about to talk to him."
"I'll pray for you guys," K.M. replied.
Graham texted back: "But dead serious if u don't hear from me at all again tonight, something happened."