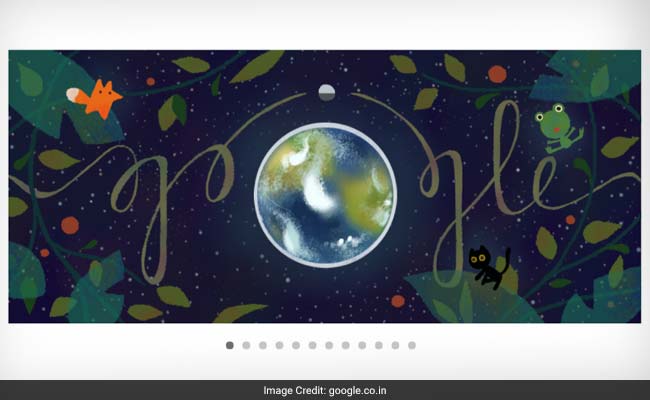 New Delhi:
Google today celebrates Earth Day with a doodle. It encourages people across the world to be more environmentally friendly. Every year, Earth Day is celebrated on April 22 worldwide, and with the Earth Day-themed doodle, Google supports and promotes the environment protection. Earth Day is an annual event marked across the world to show support for environmental protection. The aim is to encourage people to do things that will benefit the Earth, such as recycling more, using solar power or plant trees.
Today's Doodle describes the story of a sleeping fox who dreams about an Earth that's been polluted and adversely affected by climate change. Determined to save mother earth, the fox makes small lifestyle changes. Along the way, it enlists friends - including Momo the cat, and Google Weather's favorite frog - to join its quest to protect and nurture the environment.
The Doodle has tried to guide us on small ways through which we could contribute to mother earth. Efforts like using less electricity, riding bicycle instead of buses, use of wind turbines and solar panels, and plant greenery.
Earth Day began after a devastating oil spill more almost 50 years ago prompted a group of peace activists to raise environmental awareness.
At a UNESCO conference in San Francisco in 1969, peace activist John McConnell proposed that a day should be set aside to honour the Earth and the environment.
He believed that humans had an obligation to protect the earth and share its resources with future generations.
The first Earth Day took place the following year in 1970 and marking it were 2,000 colleges and 10,000 schools across the US.
Now it is celebrated in 192 countries across the world by around one billion people.
The environment is deteriorating at a fast pace, and in such times even the most basic changes can leave an impact. Earth Day celebration is a way to remind humans of these changes, whether it is turning off the electronic devices that are not in use or taking public transport over private transport to reduce the emission level.