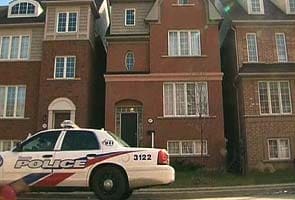 Totonto:
A Chinese student was talking to her boyfriend in China on Skype when she was murdered in her apartment in Totonto. Meng Xianchao watched helplessly from China while Liu Qian struggled helplessly with a man before the camera was abruptly shut off.
The body of the 23-year-old York University student was found on Friday in her apartment in Toronto, police said.
According to police, she was naked from the waist down and there were no obvious signs of sexual assault or trauma that would have led to her death.
An autopsy failed to show the cause of death and it could be weeks before the results of toxicology tests are known, Police Sergeant Frank Skubic said.
He said the death has yet to be classified officially as a homicide, though police were investigating it as such.
Liu was chatting with her boyfriend, Meng Xianchao, on Skype at about 1 a.m. local time (0500 GMT) on Friday when an unknown man knocked on the door, police said.
Meng reported seeing a struggle break out between the two before Liu's webcam was shut off.
The friend contacted other friends in Toronto who in turn called police.
Police said they have spoken to the witness.
The victim's father, Liu Jianhui said his daughter studied at Beijing City University before going to Canada where she met her classmate and boyfriend Meng Xianchao.
Liu Qian's laptop computer, webcam and mobile phone are missing, Skubic said.
He said the online chat was a live streaming camera and was not recorded, though investigators were trying to figure out if there was any way they could recover it.
The witness told police the man who assaulted Liu appeared to be in his 20s with a muscular build.
Skubic said it was not clear if Liu knew her attacker.
He said a former roommate was interviewed as a person of interest, but he declined to call the man a suspect.
Skubic said Liu lived alone and had been at York since last September.
York University President Mamdouh Shoukri said in a statement that their entire community was mourning the loss of a promising young student.