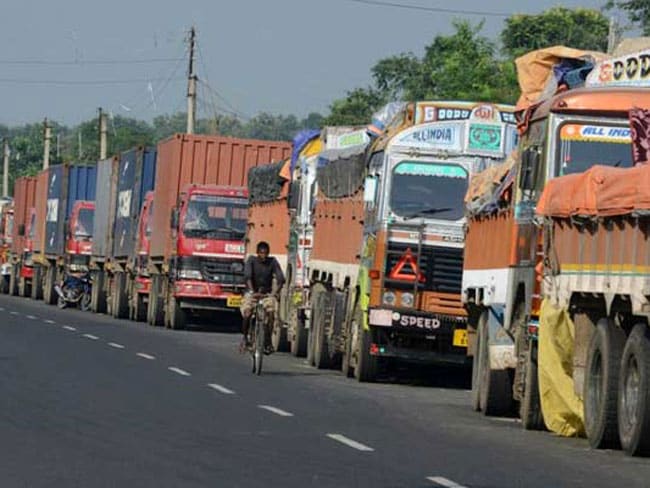 Kathmandu:
Nepali officials left for China today to negotiate a fuel deal and ease crippling shortages after protests over a new constitution blocked imports from its sole supplier India, a minister said.
Scores of trucks have been stranded at a key India-Nepal border checkpoint for more than a month, cutting off vital supplies and forcing fuel rationing across the landlocked Himalayan nation.
The shortages led to overnight queues at gas stations in Kathmandu and prompted the state-run oil company to ask foreign firms to airlift supplies into the country as it struggles to recover from a devastating earthquake earlier this year.
"An eight-member team left today for China to discuss importing petroleum products and end the current fuel crisis," Ganesh Man Pun, Minister for Commerce and Supplies, told AFP.
India has had a monopoly on Nepal's fuel supplies for decades but tensions over the blockade have prompted Kathmandu to turn to Beijing, which has already agreed to donate 1.3 million litres of petrol to the country.
It is unclear whether China has donated fuel to Nepal in the past, but officials say the two countries have never commercially traded oil or gas.
"In the long run, we hope we can source some of our petroleum needs from China," Pun said.
Kathmandu is exploring the possibility of transporting fuel via its northern land crossings with China, one of which re-opened this month after suffering damage in the earthquake that hit Nepal in April.
Nepal has traditionally relied on its border crossings with India, with the flat plains easing the transport imports and exports, avoiding the mountainous terrain of the northern routes.
- Dissatisfaction with constitution -
Hundreds of protesters have blocked a bridge crossing in the town of Birgunj, 90 kilometres (55 miles) south of Kathmandu since September 24, while movement of cargo at other checkpoints along the Indian border has also slowed down.
Kathmandu has accused New Delhi of backing the protesters and imposing an "unofficial blockade" to register its dissatisfaction with the new constitution.
New Delhi has denied the claims and has urged dialogue with protesters, who belong to the Madhesi ethnic minority and have close cultural, linguistic and family ties to Indians living across the border.
The constitution, the first drawn up by elected representatives, was meant to cement peace and bolster Nepal's transformation to a democratic republic after decades of political instability and a 10-year Maoist insurgency.
But it has instead sparked deadly violence, with more than 40 people killed in clashes between police and ethnic minority protesters, who say a new federal structure laid out in the charter adopted last month will leave them under-represented in parliament.
Work on the constitution began in 2008 after Maoist rebels laid down arms and entered politics, winning parliamentary elections and abolishing a 240-year-old monarchy. But power-sharing squabbles between parties stymied progress.
Lawmakers finally reached agreement in June, spurred by the massive earthquake two months earlier that killed nearly 8,900 people and left more than half a million people homeless.