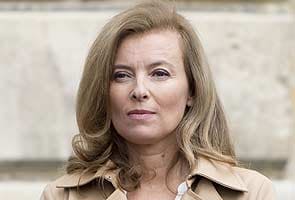 Paris:
Three French magazines were fined on Tuesday for publishing photographs of President Francois Hollande's companion Valerie Trierweiler in a bikini which were taken when they were on a summer break.
The judge ordered glossies Voici and Closer to pay USD 1,946 each in fines and damages. The other magazine Public got 1,000 euros.
According to the magazines, Ms Trierweiler had sought 20,000 to 25,000 euros for breach of privacy over the snaps taken when she and Mr Hollande were holidaying in the Bregancon presidential retreat on a small island off the Mediterranean coast.
Judge Anne-Marie Sauteraud however said Ms Trierweiler "could not ignore that by bathing in a two-piece swimsuit on the beach of the official presidential retreat, she risked being photographed".
French glossy VSD was fined 2,000 euros in September over the same photographs.
Closer in September created a storm by publishing photographs of Prince William's wife Catherine sunbathing topless. French legal authorities have since banned the magazine from any further distribution of the pictures.
A court also ordered the magazine to hand over the files with the images of the British royal couple, which the publication has done.
Disgraced ex-IMF chief Dominique Strauss-Kahn and a woman named as his new girlfriend are also seeking damages from Closer and VSD, for publishing "stolen photographs" of them together.
Get Breaking news, live coverage, and Latest News from India and around the world on NDTV.com. Catch all the Live TV action on NDTV 24x7 and NDTV India. Like us on Facebook or follow us on Twitter and Instagram for latest news and live news updates.