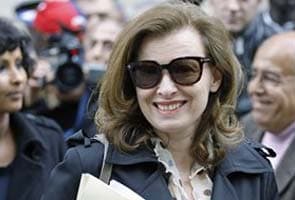 Paris:
When outgoing president Nicolas Sarkozy and his supermodel turned singer wife Carla Bruni-Sarkozy make way for France's new first couple, a very different first lady will enter the Elysee Palace.
Valerie Trierweiler, twice divorced, is the first presidential partner to take on the role of first lady without a ring on her finger.
Francois Hollande's partner is also a reserved journalist who moves in very different circles to those of the glamorous former first lady.
"She doesn't have that sort of glow around her of beauty, modelling, money, fortune, lovers, this is somebody very simple who did her job very seriously and who is very beautiful. Funnily enough, they all have beautiful women," said Colombe Pringle, the Editor in Chief of Point de Vue Magazine.
One of six children, 47 year-old Trierweiler grew up in a modest neighbourhood in Angers, western France, and studied political science at the Sorbonne.
She met Mr Hollande years ago while covering the Socialist Party, which he headed for 11 years until 2008.
Their relationship started in 2005 as Mr Hollande's then-partner Segolene Royal was beginning to prepare her own presidential candidacy.
Mr Hollande and Ms Royal maintained a pact of silence about their crumbling relationship, broken only after she lost to Mr Sarkozy in 2007.
Ms Royal then announced that she had asked Mr Hollande to leave their family home.
In a recent interview with Paris-Match in October, Ms Trierweiler said she didn't choose to have a public life, she chose her partner.
Eschewing tradition, and the Elysee Palace, Mr Hollande and Ms Trierweiler want to remain in their own apartment, located in a busy Paris neighbourhood and said to be a security nightmare.
But how will their unwed status play to the crowd of official visitors or when traveling abroad, particularly to countries sensitive about male-female ties outside wedlock?
Colombe Pringle highly doubts they will wed under pressure.
"Hollande always said he would never get married and even for his children, four children with Segolene Royal, not married, why marry with her suddenly? Just because he got to be president? I think this would be a little bit unfair and doesn't correspond to the way he leads his life."
Colombe Pringle also doesn't believe that Mr Hollande will give former partner Royal a place in the government "because you can't be with your ex-wife. I think it's too close and I don't think their relations are as easy as that."
As for Carla Bruni-Sarkozy, her new role might include helping her husband live outside the public eye for the first time.
"It's going to be tough for him because he thinks, he says that he is going to have a rest, they are going to go to the south of France but that man has never not done something for one day, one hour, so Carla can help him calm down," said Ms Pringle.
A return to the stage also looms, as Bruni-Sarkozy resumes a singing career she left behind when she became first lady.