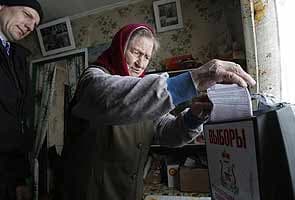 Moscow:
Five people died of heart attacks at separate polling stations during the presidential elections in Russia on Sunday, police said.
One man -- a 65-year-old member of a local election commission in Zelenograd in northern Moscow -- went for a cigarette break a few minutes before polling was supposed to open, when he suffered a massive heart attack and died.
A 53-year-old man, who had been discharged from hospital two days ago, died from a heart attack after getting his ballot paper at a polling station in Omsk, West Siberia.
A 77-year-old pensioner died near a polling station in Moscow, a 59-year old former school principal died in Domna village as she arrived at a polling station, while a 72-year-old woman died five metres away from her polling station in Volgograd.
Russia voted on Sunday to elect a president for the fifth time in the nation's post-Soviet history. Prime Minister Vladimir Putin scored a decisive victory to return to the Kremlin and extend his hold on power for six more years.