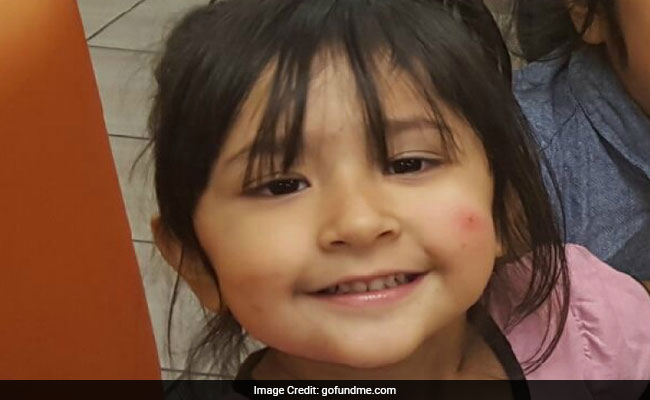 When officers found Gerardo Mendoza Ordaz Sunday night, he was standing in the Healdsburg, California, police station parking lot, naked, holding his limp 4-year-old daughter. Her clothes were soaking wet.
The California man's 9-year-old son stood nearby, wearing shorts but no shirt.
Ordaz, 42, was screaming, "help!" and "police!"
For 90 minutes, authorities attempted to revive the unresponsive girl. At a hospital, she was pronounced dead.
Hours later, after a lengthy, detailed statement from Ordaz, the man was arrested in connection with his daughter's slaying, according to the Associated Press. At a news conference Monday, Healdsburg Police Chief Kevin Burke would not say why authorities believe Ordaz killed his daughter, but he did say how.
"We do believe she was drowned intentionally," Burke said.
The man and his son led authorities to the crime scene, just 75 yards away from the police station, inside St. John the Baptist Catholic Church.
There, in the sanctuary, sits a large baptismal pool, about one- to two-feet deep, eight feet wide and 10 feet long, Lt. Matt Jenkins told the Press Democrat. On Sundays, the doors to the church are often left unlocked, authorities said, for those who wish to linger in the sanctuary and pray. Police believe Ordaz was alone there with his children when he allegedly submerged the 4-year-old girl under the baptismal waters, Jenkins said.
An autopsy was conducted Monday to determine an official cause of death, reported the Associated Press.
"This is very unusual," Burke told CBS San Francisco. "I've never seen anything like it in my career."
Classes resumed Monday at St. John's church school and preschool, but the sanctuary remained closed. The 9 a.m. mass was canceled, reported the Press Democrat, and yellow police tape cordoned the front entrance.
Church personnel did not respond to requests for comment from local media outlets, but the Rev. Sean Rodgers, pastor of the Healdsburg church, released a statement Monday afternoon on the Diocese of Santa Rosa website:
"Sunday night there was tragedy in the church; a little girl lost her life. When police finish the investigation we will know more. In the meantime, please pray for the family, and the parish community."
Police were overburdened by the investigation, the chief told the Democrat, which spread thin the resources within their small police department in a town of about 11,200 people, located about 100 miles west of Sacramento in northern California.
"It's a very complicated investigation. We've had staffing up all night," Burke told the newspaper. "It's a very challenging and tragic case."
The town hasn't experienced a homicide investigation in eight years. The young girl's death Sunday sent shock waves through the community.
"I'm so sad," Healdsburg resident Katie McDowell told the Democrat. "It's Healdsburg. Such a small town. Scary things can happen."
According to Sonoma County court records obtained by CBS San Francisco, Ordaz was involved in some criminal activity in the late 1990s, including a conviction for disturbing the peace by fighting in public and a guilty plea of felony burglary, both in 1996. He served time in jail for both incidents.
In 1998, he was sentenced to two years in prison on the burglary charge and another offense because he violated his probation, CBS reported.
Police told the TV station they were unaware of any domestic related calls to the man's home.
Ordaz and his wife live just outside city limits, the chief told the Democrat, and have four children, including the girl and her 9-year-old brother. Child protective services determined the children were safe in their mother's care.
Ordaz was booked into the Sonoma County Jail without bail, reported KRON 4, and will be arraigned in Sonoma County Superior Court this week. It was unclear, according to local media reports, if he had a lawyer.
© 2016 The Washington Post
(This story has not been edited by NDTV staff and is auto-generated from a syndicated feed.)