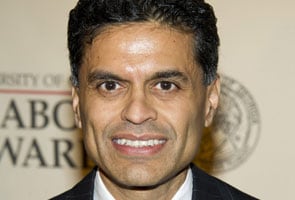 New Haven (Connecticut):
Hit by plagiarism charges, celebrated Indian-American journalist Fareed Zakaria has resigned from the board of Ivy League Yale University, citing the need to focus "on the core of my work".
Mr Zakaria, an editor-at-large at Time magazine and CNN host, has been reinstated in both his jobs after a brief suspension after he apologised for plagiarising a paragraph in The New Yorker for his own column in Time magazine.
"My service at Yale is the single largest commitment of time, energy, and attention outside of my writing and television work," Mr Zakaria wrote in a letter to Richard C. Levin, president of the New Haven, Connecticut-based university.
"The work of the Yale Corporation needs and deserves such attention, but I simply do not have the capacity to do it and keep up with my main professional obligations."
"I came to Yale as a scholarship kid from India in 1982 and instantly fell in love with it. That affection has never waned. I have tried to give back to the university a small measure of what it gave me - devoting time, effort, and resources, as best I could," Mr Zakaria wrote.
"Serving for a term on the Yale Corporation has been an extraordinary opportunity. I have learnt a great deal from it and I will be shaped by this experience forever," he wrote.
In accepting Mr Zakaria's resignation, Mr Levin commented: "My colleagues and I are deeply grateful for Fareed Zakaria's generous contribution of time and service to the Yale Corporation these past six years."
"His keen intelligence and broad knowledge of world affairs have enlightened our discussions, and his appearances on campus have benefitted our students and faculty. We will miss him as a colleague, a contributor and a friend."
Early last week, Mr Levin indicated that the Yale Corporation was in the process of reviewing Mr Zakaria's situation. In light of his resignation, the review has been discontinued, according to New Haven Register, which had editorially called for his resignation.