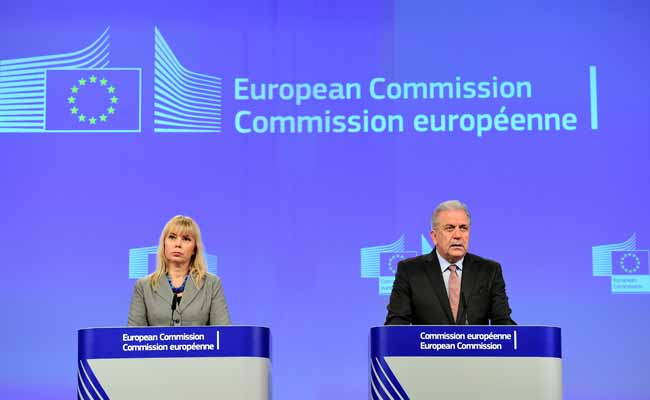 Brussels:
The European Union said today it will push through plans to tackle the trade in illegal firearms, ahead of a crisis meeting of interior ministers in Brussels following the Paris attacks.
EU Migration Commissioner Dimitris Avramopoulos also urged member states to make better use of intelligence-sharing tools to protect Europe's borderless Schengen area, which has come under scrutiny after the attacks.
"We decided to speed up things in a matter of days," Avramopoulos told a news conference.
"We will soon present a communication with concrete actions to tackle illegal firearms trafficking and explosives. We need actions to protect our citizens from the harm caused by smuggled Kalashnikovs."
Brussels also aims to have agreement by the end of the year on a controversial plan for the US-style sharing of air passenger name records, regarded as a key step for maintaining security within the passport-free Schengen zone, he said.
France requested the emergency meeting of interior ministers in the wake of Friday's carnage in Paris in which 129 people were killed in a gun and suicide bomb rampage claimed by the Islamic State group.
The fact that several of the attackers were from Belgium and the discovery of a Syrian passport at one of the Paris attack sites have also raised questions about Schengen, which is already under pressure from the migration crisis.
But Avramopoulos insisted that Schengen would survive, adding that it was up to EU states to make use of intelligence-sharing provisions to track Islamists travelling to fight in the Middle East.
"If we make full use of the tools given to us by Schengen our external borders will be protected in a more efficient way," he said.
"We don't intend to open a discussion on Schengen's future. Schengen is the greatest achievement of European integration."