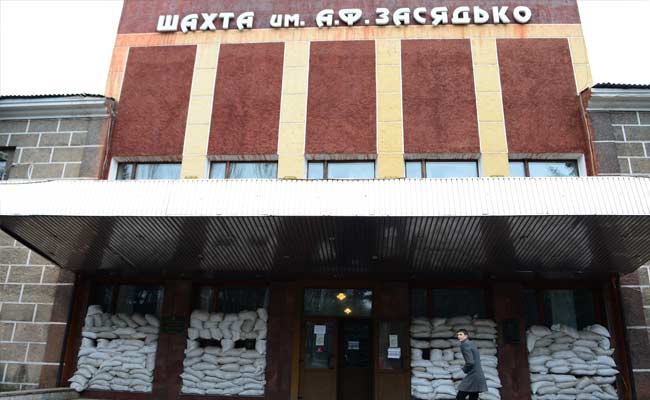 Ukraine:
A deadly methane gas explosion tore through a coal mine in western Ukraine on Thursday, killing at least eight miners in the latest pit disaster to hit the ex-Soviet state. As rescuers scrambled to save those trapped underground there was confusion over the exact number of people killed in the blast.
The head of Ukraine's Independent Trade Unions of Coal Miners Mykhaylo Volynets told AFP that 10 miners were killed after earlier claiming that 11 lives were lost. Ukraine's emergency services and prosecutors put the figure at eight.
Rescue workers said that 20 people were unaccounted for and that 172 miners were in the pit at the time. Volynets said the pit in the western region of Lviv near the Polish border "had not been modernised for years". It operated "using outdated equipment and lacked the necessary safety means," he added.
Officials said Prime Minister Volodymyr Groysman and Energy Minister Igor Nasalyk immediately left for the site after hearing the news. Ukraine has frequent mine accidents that claim dozens of lives at a time. But this is the first major explosion reported this year.
Ukraine relies heavily on coal for electricity and heat despite efforts by Western donors to weaken the east European country's dependency on the polluting fuel. Many of the mines are in a dilapidated condition and deemed too dangerous to operate. The region's governor Oleg Synyutka said the mine was preparing to raise its output at the time of the blast.
Ukraine is currently experiencing a rail strike by pro-Kiev army members and their sympathisers who have halted the coal trade with the heavily industrial east, where most of the coal is produced and which has been scene of a 34-month separatist revolt that has claimed at least 10,000 lives.
This means that Ukraine is now trying to boost the operations of other pits under its control -- including the one in the western region of Lviv. "Because we have stopped receiving coal from the east of Ukraine, we were preparing to increase the production output of the Lvovugol mines," Synyutka said in televised remarks. "Whether this explosion is linked to that work or not is now being checked," he added.
Officials said Ukrainian President Petro Poroshenko was being briefed on the situation and had declared a day of national mourning over the disaster