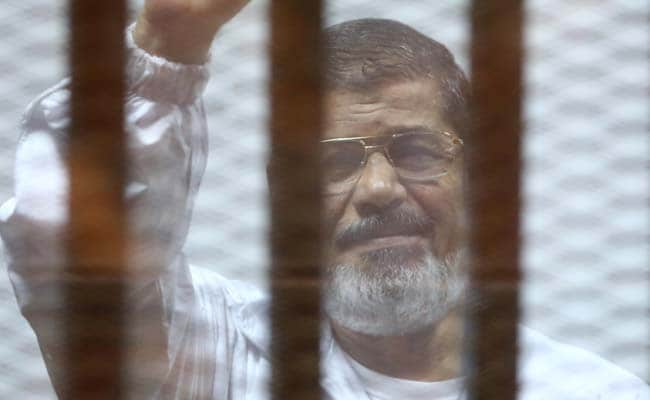 Cairo, Egypt:
An Egyptian court could sentence deposed president Mohamed Morsi to death today in the first verdict against the Islamist nearly two years after the army ousted him.
The Cairo court will deliver its verdict on charges of inciting the killing of protesters in December 2012, when Morsi was still in office.
A death penalty against the country's first freely elected president would be a symbolic blow against his Muslim Brotherhood movement target of a brutal government crackdown after then army chief and now president Abdel Fattah al-Sisi overthrew him on July 3, 2013.
Ahead of the verdict, the Brotherhood slammed Sisi and called for pro-Morsi protests today.
"The coup commander is exploiting the judiciary as a weapon in the battle against popular will and the democratic and revolutionary legitimacy represented by President Mohamed Morsi," it said in a statement.
Morsi also faces a possible death penalty in two other trials, including one in which he is accused of spying for foreign powers.
Separate verdicts in those two cases are due on May 16.
A death sentence today cannot be ruled out, experts say, especially since judges have already passed harsh verdicts against leaders of the Brotherhood.
Morsi was toppled after mass street protests against his year-long rule.
The new authorities then launched a sweeping crackdown on his supporters in which more than 1,400 people were killed and thousands jailed.
Hundreds have been sentenced to death after speedy mass trials which the United Nations called 'unprecedented in recent history'.
The authorities have also targeted secular and liberal activists who spearheaded the 2011 uprising against long-time autocrat Hosni Mubarak, Morsi's predecessor.
In November, a court dropped murder charges against Mubarak in his own trial over the deaths of hundreds of protesters in 2011.
Today's verdict involves a case in which Morsi and 14 other defendants, seven of whom are on the run, are charged with the killing of three protesters and torturing several more during clashes in front of the presidential palace on December 5, 2012.
Defence lawyers say there is no proof Morsi incited the clashes.
Even if he escapes the death penalty, Morsi could still face life in jail.
The verdict is open to appeal.
Sisi has vowed to 'eradicate' the Brotherhood, an 85-year-old movement that staged major electoral gains between Mubarak's fall and Morsi's presidential victory in May 2012.
The movement was designated a 'terrorist group' in December 2013, with the authorities blaming it for attacks on the security forces.
Jihadists have claimed these attacks in retaliation for the anti-Brotherhood crackdown.
In a country where the army has been in power for decades, Sisi's May 2014 presidential victory crushed hopes raised since the popular anti-Mubarak revolt of a civilian democracy.
However, Sisi's regime is widely popular among Egyptians tired of more than four years of political turmoil, but rights groups say it is more repressive than under Mubarak.