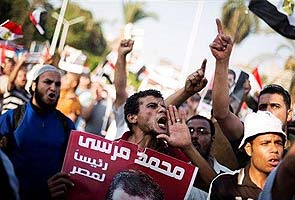 Cairo:
Egypt's state news agency says the spiritual leader of the Muslim Brotherhood and his powerful deputy will go on trial on Aug. 25 on charges related to the killing of protesters.
Brotherhood leader Mohammed Badie and his deputy Khairat el-Shater are accused of complicity in the killing of eight demonstrators outside the Islamist group's Cairo headquarters late on June 30 and early July 1. Badie is at still large, while el-Shater is in custody.
The killings took place during massive the first day of mass street protests calling for the ouster of President Mohammed Morsi, who was a longtime Brotherhood member.
The state news agency also said Sunday that senior Brotherhood figure Rashad Bayoumi will face trial on the same charges. Three others face murder charges in the same case.