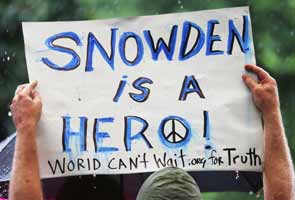 Washington:
Whistleblowers like Edward Snowden put everything on the line to unveil the most closely guarded government secrets in an effort to preserve cherished US freedoms.
Snowden's explosive leaks last week of vast surveillance programs run by the National Security Agency that trawl through telephone and Internet records have triggered widespread consternation, gaining him admirers but also critics who denounce him as a traitor.
The 29-year-old government contractor is behind one of the most significant security breaches in US history, joining the likes of Vietnam-era Pentagon Papers leaker Daniel Ellsberg and Bradley Manning, who released US diplomatic cables and war logs to the WikiLeaks website.
"In my estimation, there has not been in American history a more important leak," Ellsberg wrote in The Guardian.
"Snowden did what he did because he recognized the NSA's surveillance programs for what they are: dangerous, unconstitutional activity."
But intelligence officials and lawmakers from both major parties have labeled him a traitor, and called for his swift capture.
"I hope we follow Mr Snowden to the ends of the earth to bring him to justice," Republican Senator Lindsey Graham wrote on his Twitter account, casting the leaker's action as "not as one of patriotism but potentially a felony.
Senator Bill Nelson, a Democrat, slammed the "act of treason," and called for Snowden's extradition and prosecution.
Obama's spy chief, Director of National Intelligence James Clapper, has described the leaks as causing "huge, grave damage" to US intelligence capabilities, and referred the matter to the Justice Department, which has launched an investigation.
The timing of the release is significant, coming not only as President Barack Obama battles controversies over the tax-collecting IRS, last year's deadly Benghazi attack and snooping of journalists' phone records, but also as Manning is put on trial.
"It's not something that you cautiously choose, it's something you have to do," fellow whisteblower Peter Van Buren, a former State Department official who released classified documents, told AFP.
"I know it takes enormous courage to do what Snowden did, and the willingness to give up everything - life, freedom, everything - for a good bigger than yourself. If that is not a definition of patriotism, nothing else can be."
In a high-stakes gamble, Snowden has fled to Hong Kong, where he has hunkered down for the past three weeks, fearing retaliation from red-faced US authorities outraged at the revelations.
The term whistleblower itself is a contentious one, and applies to informants regardless of their own weaknesses or potential recklessness of their leaks.
For Van Buren, the decision to release previously secret information to the public is an "act of conscience."
"At the end of the day, you have to separate the message from the messenger," he said.
"We're all miserable human beings. It doesn't matter who releases the information, it's a requirement for democracy."
Ben Wizner of the powerful American Civil Liberties Union noted that without whistleblowers, the public would not have learned about abuses at Abu Ghraib prison in Iraq, CIA black sites or the NSA's warrantless wiretapping under president George W Bush.
"If government by the people is going to be real, the people need to know what the government is doing and if we rely only on the official version of facts, the people would be kept in the dark about very important issues," he said.