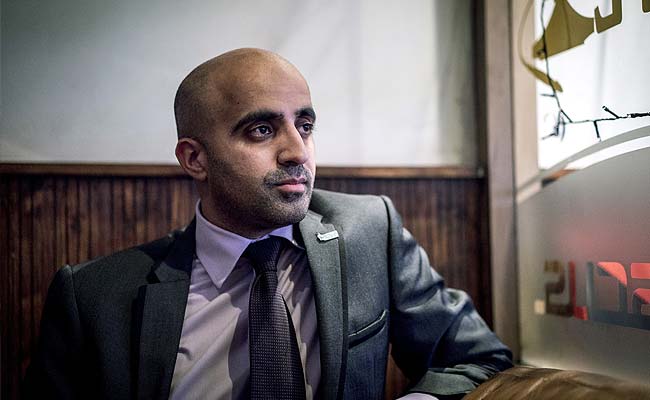 Manchester:
Everyone at the Alfurqan Islamic Center knows of the parents who tried to rescue their twin daughters after the girls ran off to join the Islamic State.
They know how Ibrahim Halane and his wife, Khadra Jama, who are immigrants from Somalia, followed their daughters to Turkey. How Jama, who ventured into Syria after them, was arrested by the militants and detained for more than five weeks. How the parents came back empty-handed, their 17-year-old daughters, Salma and Zahra, already married off to jihadis.
They know the story, and they sympathize. But they keep their distance.
"We know he's upset, and everyone feels sorry for him," Haji Saab, chairman of the mosque, said of Halane. But "we leave him alone."
It has been very difficult for the community as well, Saab said. It has "shut itself up."
"People are traumatized," he said.
About 3,000 men and women are believed to have left Europe since the Syrian war intensified to join up with militant groups like the Islamic State. While their loved ones hope for their safe return, the authorities throughout most of Europe are taking steps to stop them, amid fears that they will recruit others or bring violence back with them.
But in many cases they have already created turmoil for their families and communities, say those familiar with the people left behind. Not only do parents like Halane and Jama live with the worry that they will never again see their children - many of whom are just teenagers - but they must also endure isolation and fear.
And with the authorities unhelpful - and largely unsympathetic - in most cases, more families are taking matters into their own hands and trying to go to Syria to rescue their children themselves.
"Even their relatives are ignoring them because they are frightened of being associated with so-called terrorists and of being arrested," said Saleha Jaffer, who runs Families Against Stress and Trauma, a London-based organization that helps families of children who have joined the Middle East conflict.
Many, like the Halane family, are keeping to themselves. At the Alfurqan Islamic Center one recent morning, Halane, who occasionally teaches there, was in a classroom, throwing questions at a group of young boys, who responded in lively unison. But he frowned as he emerged with his students.
"Please, you must go away," he said in a low, trembling voice, as the students stopped chatting and listened in. "I have nothing to say, except that if they want to come back, they can," he said, referring to his daughters.
"If they don't," he paused, and flicked his hand as if to brush them away. He turned his back without finishing his sentence.
The trauma is particularly acute among Somalis. Somalis are struggling with the lure of Islamic extremism on multiple fronts: More than 100 Britons are thought to have joined the Shabab, an Islamist group in Somalia, according to the intelligence services.
A person who knows the Halane family said that another one of the children, a son, had gone to Somalia to fight with the Shabab, but then moved to Syria and joined the Islamic State last year.
Jaffer said the stigma faced by families was acute. Families know they are gossiped about and shunned. Some siblings refuse to go to school because they are afraid of being bullied.
Part of her organization's work is to help the families rejoin their communities by persuading others they will not be punished if they show support. But so far, the persuading has been difficult.
Activists said governments were making the problem worse with their plans for tighter anti-terror laws, more stop-and-searches, and the 12-year prison sentences handed down in Britain recently to two returning jihadis after their families cooperated with the police.
The policies are discouraging others from coming forward, community activists say. The police have arrested 271 people on terrorism-related charges so far in Britain this year.
"No one is talking about their impact on families and the communities," said Mohammed Shafiq, the chief executive of the Ramadhan Foundation in Manchester, which aims to discourage young people from joining the Islamic State. "The government just has a series of knee-jerk reactions."
He said that one consequence of the authorities' expanding anti-terrorism powers was that an increasing number of families had approached him for advice on traveling to Syria on their own to fetch a daughter or son.
One father from Cardiff, Wales, was determined to bring back his 22-year-old son, who joined the Islamic State after traveling to the conflict zone as an aid worker a year ago.
"He said he thought the police and the government were useless because they weren't of any help," Shafiq said. "He had even contacted the local member of Parliament, but didn't get results."
Shafiq dissuaded him.
"I know you are suffering because your child is gone," he said he had told the father. But if Syrian government forces did not capture him, he told him, Islamic State militants would. "It's too dangerous. Can you live with yourself knowing your other children would be orphans and your wife a widow?
"I rarely see grown men break down and cry," recalled Shafiq. "He was just so helpless."
A family friend described the Halanes as a deeply religious family of 13. They left Somalia, lived in Denmark for a while and then immigrated to Britain, where the twins were top students and aspired to become doctors like an older sister, who is a medical student in Denmark.
But in June, the twins flew to Turkey and crossed the border into Syria. The family friend, who works with the older sister at a charity in Denmark, discovered their whereabouts, and their parents set off after them.
The friend, Ahmad Walid Rashidi, a Dane of Afghan origin, agreed to help. In an interview, Rashidi said he and the father had made it as far as Turkey when the father balked.
Although they had determined that the girls' father was more likely to be granted access to his daughters, their mother, Jama, who uses a different name from her husband, insisted on making the journey.
"I have lost one son," she told him. "So I don't want to lose the twins."
Rashidi said she had been focused on taking the girls back to Britain. "She was not afraid of dying."
They found the girls in Manbij, a Syrian city between Raqqa and al-Bab, which is said to be popular among European fighters of the Islamic State. But Jama's efforts to encourage her daughters to return were thwarted when she discovered they had already been married.
Soon after, militants arrested her and Rashidi on suspicion of being Western spies. They were detained in separate jails for 36 days, an experience Rashidi plans to recount in a book to be published next April.
According to Rashidi, at their subsequent trial in a court of the Islamic State, Jama's optimism began to weaken.
"She started looking scared that she'll never see her daughters again," he recalled.
Her daughters told the court and their mother that their hearts belonged to Islam and that they did not want to return to Britain. The girls' husbands would also have to give their permission for them to return home, Rashidi said, and "they were not ready to do that."
The court ultimately released the mother and Rashidi, and they were allowed to return to Turkey. Jama flew back to Manchester.
One of the Islamic State judges said: "We didn't ask your twins to come here," Rashidi recalled. "They came here because you taught them" to be religious.
As they left, Rashidi said, a dejected Jama murmured: "Fi sabilillah." The expression, which comes from the Quran, means, "for the sake of God."
© 2014, The New York Times News Service