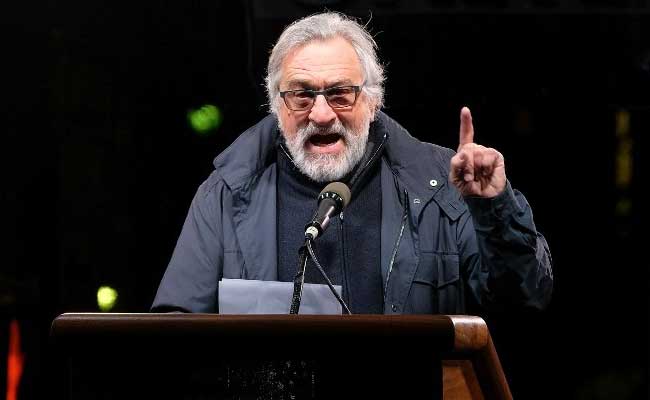 Los Angeles:
Veteran actor Robert De Niro blasted President-elect Donald Trump calling him "a bad example of this country". During a rally outside Trump Tower in New York City, De Niro was accompanied by actors Alec Baldwin, Mark Ruffalo, Michael Moore and singer Cher, reported Entertainment Weekly.
De Niro was the first celebrity speaker to take the stage at the rally, which included thousands of attendees stretching across at least five blocks.
The actor read mean tweets about the president-elect, adding that he thinks Trump is "a bad example of this country and this city."
Baldwin inserted a few Trump impressions along the way, commenting on him and his cabinet members.
"These people are a disgrace, but there is hope," said the actor. "Trump and Pence think you're going to lay down. That's one thing about New Yorkers: You don't lay down," he said.
Moore had somber words for the event: "We're at a very dangerous moment in history," said the filmmaker. "As bad as you think it's going to be, it's going to be worse. The good news is there are more of us than there are of them."
"Man, I needed this. Did you need this? We're coming here tonight to protect something precious to us, and that's each other," Ruffalo said.
Actresses Shailene Woodley, Marisa Tomei and Julianne Moore and more activists also took the stage at the event.
(Except for the headline, this story has not been edited by NDTV staff and is published from a syndicated feed.)