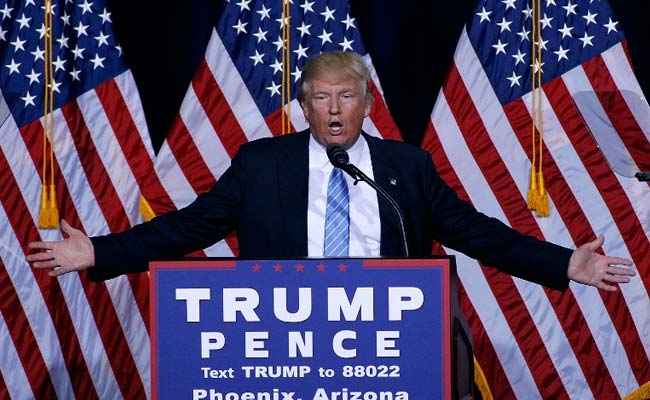 Detroit, United States:
Republican presidential candidate Donald Trump promised African Americans prosperity and jobs Saturday in a tempered speech to black churchgoers in a US city famous as a symbol of economic and urban decline.
Setting aside his usual stridency, Trump adopted a humble tone, telling his audience at Great Faith Ministries International that he came to listen, expressing sympathy for the out-of-work young men he had seen on boarded-up Detroit streets.
"Nothing is more sad than when we sideline young black men with unfulfilled potential, tremendous potential," Trump said, speaking from notes.
"Our whole country loses out without the energy of these folks. We're one nation. And when anyone hurts, we all hurt together," he said.
Trump faced criticism in recent weeks for wooing black voters but in front of overwhelmingly white audiences.
On Saturday he was received courteously and rewarded with occasional bursts of applause as he set about trying to allay the deep skepticism of African Americans who have swung overwhelmingly behind his rival, Hillary Clinton.
Blacks account for 12 percent of the US electorate, and Trump, who trails in the polls with 66 days before the election, recently has sought to widen his base.
'Devil's in the pulpit'
Before the speech, protesters chanting "Dump Trump" tried to breach police barriers to gain entrance.
"The devil's in the pulpit!" shouted Wyoman Mitchell, one of several dozen protesters who were pushed back by horse-mounted police and other officers in the tense encounter.
Rick McGowan, who works in Detroit schools, described Trump's outreach here as "an insult to black people."
"He's never come to our rescue," McGowan said. "Why are we supposed to believe him now?"
Church pastor Bishop Wayne Jackson had invited New York billionaire Trump to attend the fellowship service.
Trump also sat for an interview with Jackson that will be aired Thursday night, according to Jackson's Impact Network.
Jackson had said he submitted questions in advance, but it was not known whether the two men went off script.
Trump told the congregation he believes "we need a civil rights agenda for our time, one that ensures the rights to a great education -- so important -- and the right to live safely and in peace."
'Nation too divided'
The church appearance contrasted sharply with Trump's previous crude appeals for black support.
"What do you have to lose?" he posed nearly two weeks ago, rhetorically addressing African Americans in a speech before a white audience in Ohio, admonishing that Democrats "don't care about you."
Trump has been faulted for largely ignoring the black community during his campaign, and bypassing appearances before black churches and organizations in favor of rowdy, largely white rallies.
But in Detroit, he extolled black contributions to America and the moralizing force of black churches.
"I am here today to listen to your message and I hope my presence here will also help your voice to reach new audiences in our country," Trump said.
"Our nation is too divided. We talk past each other, not to each other and those who seek office do not do enough to step into the community and learn what is going on."
Trump said he aimed to help "remedy injustice" and improve economic standards for black communities.
Detroit
The African American electorate traditionally leans heavily Democratic, and Detroit has the highest percentage of black residents -- more than 80 percent -- of any large US city.
Many neighborhoods have been hollowed out by decades of "white flight," in which Caucasian families left downtown and midtown for more affluent suburbs.
Recognizing that the community has suffered from discrimination, Trump stressed that "there are many wrongs that must still be made right. They will be made right."
Small business owner Carletta Griffin was in the church and said she was "overcome with emotion."
Trump's message of compassion was "genuine, it was authentic, and it was warm," she said, adding that fellow African Americans needed to "change the lens in our perspective" and recognize Trump's sincerity in seeking to help their communities.
"We've been loyal to the Democratic Party for in excess of 50 years. Where has that gotten us?" she said.
But Denaria Thorn, who also attended the service, said she remained opposed to Trump's candidacy and that she was "expecting an apology" for harsh rhetoric he delivered in the past.
"He has a whole lot of making up to do," Thorn said.
Trump also took a short tour with Ben Carson, a retired African American neurosurgeon and former 2016 Republican presidential candidate, who showed Trump the modest Detroit home in which he grew up.
"This is a great day," Trump told reporters.
(Except for the headline, this story has not been edited by NDTV staff and is published from a syndicated feed.)