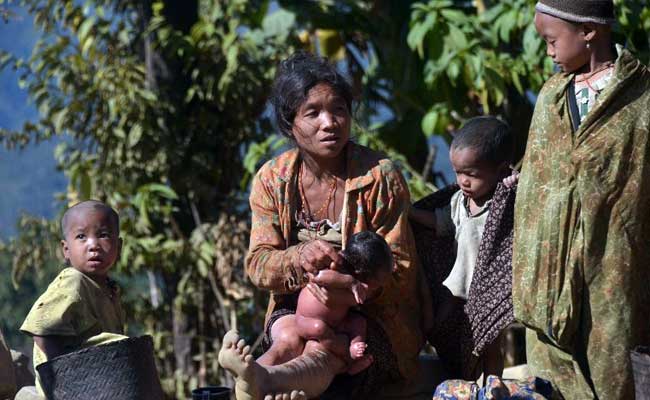 Yangon, Myanmar:
An un-diagnosed disease has killed more than 30 children in a remote part of Myanmar, officials said today, with health authorities struggling to treat victims.
The illness, with measles-like symptoms, has hit the far corner of Myanmar's northern Sagaing region, a remote and mountainous area which borders eastern India and is populated by people from the Naga tribes.
Adults and children have both been struck since the outbreak first emerged in June, a local MP said, but the illness appears to be particularly deadly to children under the age of five.
"Altogether 23 children were have been killed in Lahal township and 13 killed in Nan Yon township since June because of this unknown disease," Law Yon, a regional MP from Naga self-administrative region told AFP.
"Rashes came out on their bodies, they have a fever and difficulty breathing because of coughing. Blood also comes out while coughing," he said.
Some 200 people so far have come down with the disease, he said, adding that central authorities have been slow to react.
A health ministry official in the capital Naypyidaw confirmed the outbreak, including more than 30 deaths, and said tests were being carried out.
"We assume at an initial stage it's a measles outbreak or strong influenza. But we can definitely say only when we get the result from laboratory," the official said, requesting anonymity.
The outbreak highlights how vulnerable Myanmar's more remote populations are in a country where healthcare was never prioritised under decades of brutal and inept junta rule.
It is one of the many crippling legacies that the newly installed civilian government of Aung San Suu Kyi is trying to tackle.
Although budgets slightly increased in the last few years of outright army rule which ended with last November's elections Myanmar is still one of the lowest spenders on healthcare as a share of GDP.
According to the latest World Bank figures health spending increased from 0.2 per cent to just over 1 percent of GDP from 2009 to 2013 despite being one of the world's fastest growing economies.
In contrast 4.3 per cent of GDP in 2014 went to the military, according to the Stockholm International Peace Research Ins