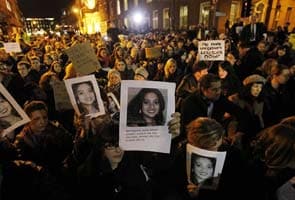 New Delhi:
India on Thursday said the "tragic death" of an Indian woman in Ireland who was denied abortion was a "matter of concern" and its embassy in Dublin was following the matter closely.
Responding to a media query on the death of Savita Halappanavar, 31, who collapsed after doctors in an Ireland hospital refused to abort her foetus on grounds that "this is a Catholic country", the external affairs ministry said: "We deeply regret the tragic death of Ms Halappanavar. The death of an Indian national in such circumstances is a matter of concern."
"Our embassy in Dublin is following the matter closely," the external affairs spokesperson said, adding that the embassy was in touch with the family.
"Our sympathies have been conveyed to the next of kin who our embassy has been in touch with."
He said the Indian government was also awaiting the results of two probes ordered into the death by the Irish government. "We understand that the Irish authorities have initiated two enquiries. We are awaiting the results of the enquiries," the spokesperson added.
Halappanavar arrived Oct 21 with back pain at Galway University Hospital where she was found to be miscarrying at 17 weeks. She died of septicaemia Oct 28.