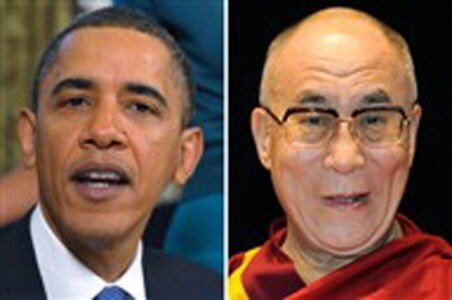 Beverly Hills:
Just days after meeting with President Barack Obama, the Dalai Lama said on Saturday that he was not offended by the low-key reception he received and understands that the president must be practical despite his stated commitment to championing human rights worldwide.
Tibet's exiled spiritual leader told The Associated Press that he recognises Obama must juggle his desire to support the Dalai Lama's push for greater Tibetan autonomy with his concerns about angering China, a growing US economic rival and hoped-for partner.
"No disappointment. The last six decades my heart hardened. I do not consider important political gestures. I don't care. The important is meet face-to-face," said the Dalai Lama, who was sometimes assisted by a translator.
"With President Clinton, the first meeting was a 'drop-in,'"he said. "People asked me the same question (then). I don't care."
The Dalai Lama made the remarks while in Los Angeles to support Whole Child International, an organisation that advocates better care for orphans worldwide.
Obama hosted the Dalai Lama on Thursday in Washington, DC, but kept the get-together off-camera and
low-key in an attempt to avoid inflaming tensions with China.
Revered in much of the world, the Dalai Lama is seen by Beijing as a separatist seeking to overthrow Chinese rule of Tibet.