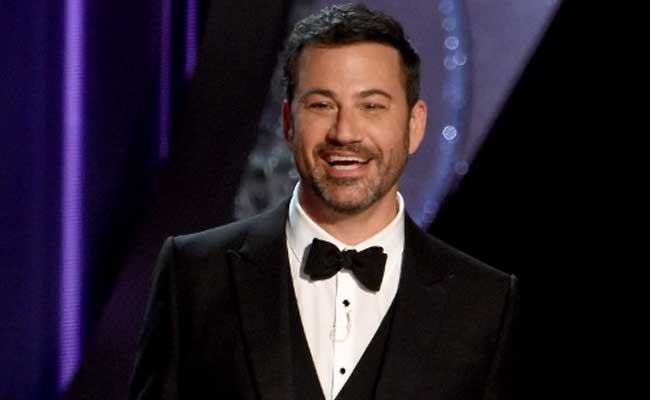 Highlights
Yes, I am hosting the Oscars. This is not a prank, tweets Jimmy Kimmel
It will be the first time that he will host the glitzy awards show
This year's ceremony suffered an eight-year low in US television ratings
Los Angeles, United States:
Late night television presenter Jimmy Kimmel on Monday ended months of speculation over who would host the 89th Oscars in February -- announcing that he has been tapped to front the glitzy ceremony.
It will be the first time for the comedian, who has hosted Jimmy Kimmel Live! on ABC since it launched in 2003 and garnered praise for his work as host of this year's Emmys television awards.
"Yes, I am hosting the Oscars. This is not a prank. And if it is, my revenge on @TheAcademy will be terrible & sweet," the 49-year-old New Yorker joked on Twitter.
His selection is expected to be announced officially by Michael De Luca and Jennifer Todd, who have multiple Oscar and Emmy nominations between them and were tapped last month to produce the ceremony.
The Academy did not respond immediately to requests for confirmation of Kimmel's selection to front the show, which airs live on ABC on February 26, but it retweeted his announcement.
The network, which pays the Academy a reported $75 million a year to broadcast the Oscars, struck a new deal in August giving executives more input into creative aspects of the ceremony.
Kimmel's appointment comes unusually late this time around, as the host is usually booked months in advance of the Oscars.
It will end speculation over several other possibilities for presenter, including fellow comedians Ellen DeGeneres and Tina Fey.
Chris Rock hosted the 2016 ceremony, which suffered an eight-year low in ratings, averaging 34.5 million viewers.
The African-American comic actor's second stint presenting was overshadowed by a social media backlash against the lack of racial diversity among the nominees, under the hashtag #OscarsSoWhite.
Ironically, a group of 25 Academy members of Asian descent, including Oscar-winning film director Ang Lee and "Star Trek" actor George Takei, subsequently complained about racist jokes at the ceremony.
It featured a section in which Rock introduced children of Asian descent as Academy accountants and an ad-libbed insinuation by actor Sacha Baron Cohen that Asian men were not well-endowed.