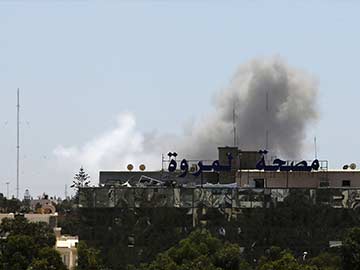 Benghazi:
Clashes between Islamists and Libyan troops loyal to a rogue general pressing an offensive against jihadists killed six soldiers and a civilian Monday in the eastern city of Benghazi, medics said.
The Islamists, including Ansar al-Sharia militants, attacked a base of elite special forces loyal to renegade general Khalifa Haftar, triggering the clashes, said the commander of a Benghazi air base that has also sided with him.
Officials at two hospitals in the area said at least seven people were killed and 11 wounded.
Colonel Saad al-Werfelli said Ansar al-Sharia militants backed by fighters from two other Islamist groups "bombarded base 21 early on Monday, killing and wounding soldiers who were trapped inside".
The Libyan air force retaliated by launching air strikes on the assailants, added the officer.
The air base and the elite special forces unit in Benghazi have thrown their support behind Haftar who last month launched an offensive against Islamists accused of repeated violence in the city.
The latest bloodshed comes after Haftar's forces launched fresh air raids on Islamists in Benghazi, including a meeting of Ansar al-Sharia, said General Saqr al-Jerushi who heads air operations.
The strikes came after Al-Qaeda in the Islamic Maghreb urged Libyans to fight Haftar and his so-called National Army, labelling the ex-army general an "enemy of Islam".
Authorities have denounced Haftar as an outlaw, but he has won over units from the regular army and air force and says he aims to crush "terrorism" in Benghazi.
Since the 2011 uprising that ousted Kadhafi, near-daily attacks blamed on radical Islamists have targeted security forces in Benghazi.
The latest violence is the deadliest since May 16, when Haftar launched "Operation Dignity" to crush the Islamists in eastern Libya and fighting then killed at least 76 people.