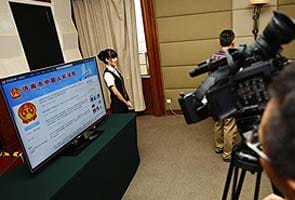 Hong Kong:
These are bad times to be a Big V in China.
"Big V," for verified account, is the widely used moniker for the most influential commentators on China's growing microblog sites - online celebrities whose millions of fans read, discuss and spread their outpouring of news and opinions, plenty of which chastise or ridicule officials. And the Communist Party has turned against them in the most zealous crackdown on the Internet in years.
Worried about its hold on public opinion, the Chinese government has pursued a propaganda and police offensive against what it calls malicious rumor-mongering online. Police forces across the country have announced the detentions of hundreds of microblog users since last month on charges of concocting and spreading false claims, often politically damaging. For weeks, a torrent of commentaries in the state-run news media have warned popular opinion makers on China's biggest microblog site, Sina Weibo, to watch their words.
One of the most popular microbloggers, Charles Xue, an American investor of Chinese origin who writes under the name Xue Manzi, was arrested in Beijing on Aug. 23, accused of having sex with a prostitute. He has been paraded on television, contrite in jail clothes. Xue was due to finish his initial detention by Tuesday, and the police could release him or hold him for extended punishment and investigation, according to Chinese news reports.
But the state news media have already made a point for other outspoken commentators. "The Internet Big V 'Xue Manzi' has toppled from the sacred altar," said the main state-run news agency, Xinhua. "This has sounded a warning bell about the law to all Big V's on the Internet."
Officials have described their campaign as urgent surgery to drain toxic lies from the Internet. But critics call that a pretext to tame the entire microblog world, honest as well as dishonest. With more than 500 million registered accounts and about 54 million daily users, Sina Weibo has grown into a raucous forum, instantly spreading news and views on brief messages that can flit past censors.
Big V has become the generic name for influential voices, not all officially verified, on microblogs, especially on Sina's site. "Weibo" means microblog in Chinese, and other, rival services also use that name.
"We're only seeing the beginning of this campaign," said Xiao Qiang, an adjunct professor at the School of Information of the University of California, Berkeley, who studies the Chinese Internet.
"This is going to last at least a few months," he said. "The other Big V's will be targeted some way or another. Party leaders, he added, "worry that they have lost control of public opinion on the Chinese Internet. And this round they'll be much harsher, and the targets will be the more influential people in the Chinese public sphere."
The campaign is part of the efforts of Xi Jinping, the Communist Party leader appointed in November, to reverse the spread of liberal ideas that challenge one-party rule, observers said. But critics and even some supporters of the crackdown said public distrust of the Chinese state media was so tenacious that more independent voices on the Internet would survive as a source of information and ideas for many.
"You can intimidate people for a while, and those leading voices will be less vocal," Xiao said. "But it doesn't mean that the government wins real credibility among people."
For now, Xue has become the most lurid trophy in the party's effort to undermine the credibility of many Big V's. Chinese television news shows have broadcast outraged reports about his conduct, including one that lasted three minutes and showed him being arrested and confessing to sexual misdeeds.
Xue has drawn more than 12 million registered fans to his microblog. Many supporters believe that the police kindled outrage about his sexual behavior because of his sharp criticisms of officials. Even Hu Xijin, an ardently pro-party newspaper editor, agreed. "Using sexual scandal, tax evasion and so on to take down political foes is a hidden rule common among governments worldwide," wrote Hu in a comment on his Sina Weibo account that was quickly removed.
The rise of microblogs has given prominent commentators a powerful, and potentially lucrative, platform. Their reach is sweeping, even discounting the many fake and dormant accounts among the fan numbers. Sina Weibo lists 347 users - a few of them companies or groups - with more than 5 million registered fans each; the top five each has more than 50 million. Plenty of the most popular users are entertainment stars; others have turned their online celebrity into its own kind of stardom, with well-paid careers based on media appearances, product endorsements and books.
The attention of a Big V microblogger can transform an otherwise obscure incident - a land dispute in a village, a pollution spill in a river, graft by a small-town official - into a subject of passionate national discussion and a headache for the government. The tone of their commentary varies from earnest outrage to sarcasm to allusive irony; the last is intended to lull censors who prowl for offensive messages.
"Some of them have become more influential than certain state media organs," said Bill Bishop, who publishes the Sinocism newsletter, closely follows Chinese Internet issues and also contributes to DealBook at The New York Times. "Weibo is so fast, and the velocity and breadth of the transmission of information is just so much greater now than it is in newspapers and even on TV."
But the explosion of Weibo has also fed a dank undergrowth of scams and fakery. Businesses use bogus "zombie" accounts to spread paid-for messages that give a boost to clients or discredit their rivals. Other operators make money by scrubbing messages that are damaging to businesses or politicians. "There is a lot of pay for play and dirty money going around," Bishop said.
The Chinese authorities have said their crackdown is directed at such abuses. The police across the country have announced the arrests of hundreds of other people accused of spreading false rumors online. Here the primary exhibit has been Qin Zhihui, whose online name is Qin Huohuo. The police have said Qin admitted to concocting 3,000 false rumors over three years as part of a business to create shock and attention that he could then use to advance himself and his clients.
The accusations against many arrested microbloggers also have a political edge. Many other rumors called outrageously false by the government have dwelt on the sins of officials: corruption, venality and sexual escapades. Qin's misdeeds included a message suggesting that Lei Feng, a dead soldier revered in party propaganda for his childlike loyalty to the Communist cause, was really a nattily dressed dilettante.
"On Weibo, China appears as if it's an evil country," said Wang Wen, a former newspaper editor turned university researcher who has been among the left-leaning commentators urging tightened controls on microblogs. "It's seriously affecting China's social stability and political governance."
Such concerns appear to have galvanized senior party leaders. A secret memorandum that the central leadership issued in April described the unruly Internet as a major threat to the party's authority. Party publications have described online rumors as a tool for subversion by shadowy Western forces and have urged officials to "brandish the sword" against them.
"Internet rumors have become a cancer in the ideological sphere," an editor wrote in a recent issue of a party ideological journal, Red Flag Papers.
The party has some reason to worry that the Internet could escape its grip despite heavy censorship, experts said. Xiao, the Berkeley academic, said his unpublished research showed that opinion leaders on Weibo had become increasingly political and tended to hold liberal views at odds with party orthodoxy.
Hao Qun, a Chinese novelist who became popular on Weibo under the name Murong Xuecun, said the crackdown was intended to break up online networks of like-minded people whose ideas could challenge the Communist Party.
"They want to sever those relationships and make the relationship on Weibo atomized, just like relations in Chinese society, where everyone is just a solitary atom," Hao said. In May, his microblog accounts on Sina and other Chinese services were deleted without any explanation. "I created a lot of sensitive words," he said.
This week, China's highest court and prosecution office issued guidelines for defining and punishing online rumors and slander. The rules gave some protection to citizens who accuse officials of corruption, but they also said a slanderous message forwarded more than 500 times or read more than 5,000 times could count as a serious crime and earn convicted offenders as many as three years in prison.
China has experienced deep chills on Internet opinion before. In 2011, the Communist Party began a crackdown on dissent, fearful that the uprisings across the Arab world would inspire protests in China. In July of that year, however, the deadly crash of a high-speed train prompted an outpouring of anger on the Internet that eroded the controls. An unexpected incident or scandal could again jolt the Internet back into contentious life, experts and Weibo users said.
"I don't think these intimidation tactics will work," said Hung Huang, a magazine publisher with more than 8 million followers on Weibo. "People will shut up for a month. Then they'll come back. Maybe not the same people, but another group of people."
© 2013, The New York Times News Service