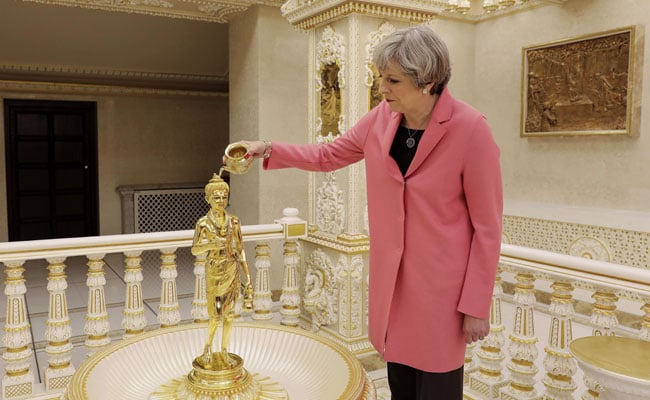 Highlights
Prime Minister Theresa May visited the temple with her husband Philip
She praised British-Indians for being "inspiring role models"
The visit happened during the last leg of campaigning for UK elections
London:
British Prime Minister Theresa May along with her husband Philip has paid a visit to the Swaminarayan Mandir in north-west London, the largest Hindu temple outside India, days ahead of the UK general election to be held on June 8.
Prime Minister May, 60, visited the temple in Neasden and offered flower petals at the central shrine of Bhagwan Swaminarayan yesterday, a temple spokesperson said.
After meeting young and old volunteers of BAPS Swaminarayan Sanstha, she also met with leaders of other Hindu organisations, the spokesperson said.
In a 20-minute speech, Prime Minister May told around 2,000 worshipers to help her make Britain the "world's great meritocracy".
"I say to all British Hindus and Indians, come with me as we make Britain the world's great meritocracy. Come with me as we build a truly global Britain, and help me build those vital links with India. Come with me as we build a stronger, fairer and more prosperous vision for us all," she said.
She also praised British-Indians for being "inspiring role models across all walks of life" and said their achievements were built "on the very best of British and Indian values".
Prime Minister May was accompanied by her husband Philip and both removed their shoes before entering the temple, the spokesperson said, adding that she was presented with a traditional memento before her departure. She visited the temple for the second time yesterday. In March 2013, she was guest of honour and keynote speaker to mark International Women's Day.
The visit came during Ms May's last weekend campaigning as the UK gears up to vote in the snap general election she called earlier this year on June 8.