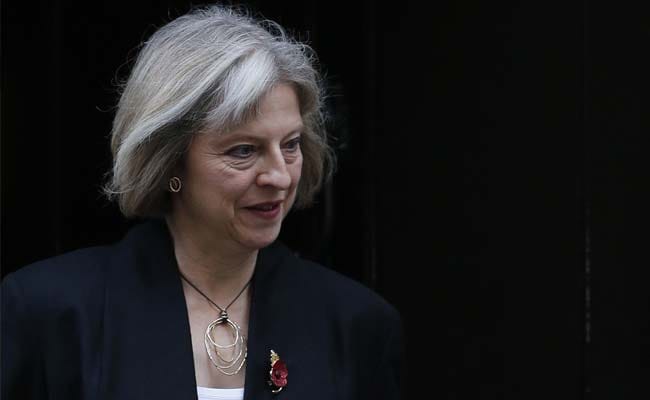 Brussels:
Britain called Wednesday for migrants trying to cross the Mediterranean to be turned back, threatening to scupper a new European Union plan for quotas to redistribute migrants across the continent.
The comments came as the European Commission was set to unveil president Jean-Claude Juncker's blueprint for dealing with an unprecedented wave of migrants fleeing conflict and poverty in North Africa and the Middle East.
The plan's most controversial elements are a mandatory redistribution of asylum seekers across the 28-member European Union and the use of European military force against smugglers in Libyan waters, according to a draft seen by AFP.
But British interior minister Theresa May said London would take no part in the quota scheme and said it would only encourage more people to make the dangerous sea crossing and risk their lives.
"I disagree with the suggestion by the EU's High Representative, Federica Mogherini, that 'no migrants' intercepted at sea should be 'sent back against their will'," May wrote in The Times newspaper.
She added: "We cannot do anything which encourages more people to make these perilous journeys -- or which makes it easier for the gangs responsible for their misery. That is why the UK will not participate in a mandatory system of resettlement or relocation."
Britain, Ireland and Denmark are effectively able to opt out of participating under EU law, which EU sources said could effectively sink the plan.
May's comments also underscore the clashes to come between newly re-elected British Prime Minister David Cameron and his European partners as he pushes for reform on migration and other issues ahead of a referendum on Britain's EU membership.
Hungary's Prime Minister Viktor Orban has meanwhile called the quota plan "mad and unfair".
European Commission First Vice-President Frans Timmermans and Mogherini, the EU foreign policy chief, were set to announce the plan at 1030 GMT after unprecedented migrant shipwrecks prodded them into action.
No numbers in draft
More than 5,000 migrants, many escaping civil war in Syria, have died over the past 18 months.
Italy, Greece, Cyprus and Malta have borne the brunt of the recent upsurge in migrants crossing the Mediterranean and have called on their EU peers to take up more of the burden.
Until now, EU states have admitted refugees on a voluntary basis under the principle that their asylum requests are processed in the country where they land, not the country they are trying to get to.
The EU statistics agency Eurostat said Tuesday that EU member states granted protection to more than 185,000 asylum seekers last year, an increase of nearly 50 percent over 2013. The figure includes those given refugee status.
The draft of the blueprint on Wednesday left blank the refugee quota numbers, a sign that the college of 28 commissioners had still to decide on them.
Nor did the proposals suggest they would be mandatory, at least until after 2016, even though EU sources said that Juncker has said he wants the quotas to be binding.
The military angle has also run into difficulties, with Mogherini winning little support during an appeal to the UN Security Council on Monday for its backing for the use of European military force against smugglers in Libyan territorial waters.
The plan targets not only the traffickers but also triples funding for EU search and rescue missions and calls for admitting more migrants.
The final plan is supposed to be put before EU leaders at their June 25-26 summit but immigration is such a sensitive political issue for many member states that agreement could prove elusive, especially when it comes to sharing the burden.
The UN High Commissioner for Refugees has urged the EU to admit annually a total of 20,000 Syrians who have taken refuge in neighbouring countries.
But one European source said no figure has so far been offered to the Commissioners.