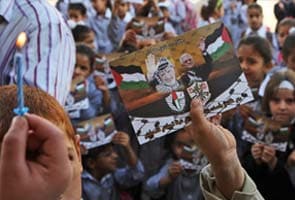 Brasilia:
Brazilian President Luiz Inacio Lula da Silva has recognised a Palestinian state within the 1967 borders in a public letter addressed to Palestinian leader Mahmud Abbas.
The decision came in response to a personal request made by Abbas on November 24, according to the letter published yesterday on the foreign ministry's website.
"Considering that the demand presented by his excellency (Abbas) is just and consistent with the principles upheld by Brazil with regard to the Palestinian issue, Brazil, through this letter, recognises a Palestinian state on the 1967 borders," it said.
The letter refers to the "legitimate aspiration of the Palestinian people for a secure, united, democratic and economically viable state coexisting peacefully with Israel."
The international community backs Palestinian demands for a state in most of the Gaza Strip, the West Bank and east Jerusalem, all territories occupied by Israel in the 1967 Six Day War.
But the United States and most Western governments have held back from recognising a Palestinian state, saying it should be brought about through a negotiated peace agreement with Israel.
Abbas visited Brazil in 2005 and 2009, and Lula made the first ever trip by a Brazilian head of state to Israel and the Palestinian territories in March of this year.
In a parallel statement, the government assured relations with Israel "have never been more robust."
Brazil has offered to help mediate Israeli-Palestinian peace talks, which were briefly revived in September before grounding to a halt over the resumption of Israeli settlement building in the occupied territories.
Israel 'saddened'
Israel today said it was disappointed by Brazil's decision to recognise a Palestinian state within the 1967 borders, saying it flew in the face of efforts to negotiate a peace deal.
"The government of Israel expresses sadness and disappointment over the decision by the Brazilian President Luiz Inacio Lula da Silva a month before he steps down," a statement from the Israeli foreign ministry said.
"Recognition of a Palestinian state is a breach of the interim agreement which was signed between Israel and the Palestinian Authority in 1995 which said that the issue of the status of the West Bank and Gaza Strip would be discussed and resolved through negotiations," it said.
Such a move also contravened the 2003 Middle East roadmap for peace, which said a Palestinian state could only be established through negotiations and not through unilateral actions, the statement said, warning that unilateral steps would harm attempts to build trust.