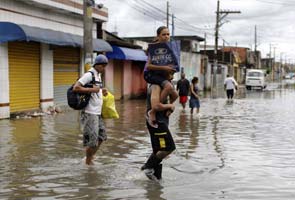 Sao Paulo:
Brazilian officials put Sao Paulo on alert on Wednesday as heavy rains hit the metropolis.
In Rio state, meanwhile, deaths from last week's mudslides rose to 727.
Rains falling in Sao Paulo flooded major highways, a day after downpours stranded motorists, forcing them to be rescued by helicopter from atop their vehicles.
One woman died when her house collapsed in the Tuesday rains.
The mayor's office issued flood alerts for much of the city, but no new deaths were reported on Wednesday.
In towns north of Rio de Janeiro where the deadly mudslides hit last week, a break in rain allowed rescuers to step up delivery of supplies to isolated areas. They also recovered bodies, pushing up the death toll.