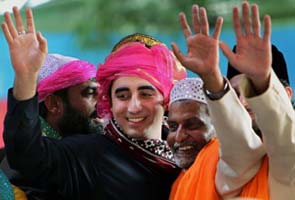 Islamabad:
Bilawal Bhutto Zardari today launched the Pakistan People's Party's (PPP) election campaign in a low-key manner, invoking the legacy of the Bhutto family while calling on people to back the party in the May 11 election.
Addressing a gathering of hundreds of PPP leaders and workers in the Bhutto family's traditional stronghold of Naudero in Sindh province at about 1.30 am, Mr Bhutto listed the achievements of his grandfather Zulfiqar Ali Bhutto and mother Benazir Bhutto as he made an emotional appeal to voters.
"Zulfiqar Ali Bhutto's grandson and Benazir Bhutto's son is calling on you today. This is a movement of peace and it will rest only after ushering in peace and security in Pakistan," 24-year-old Mr Bhutto said in the speech that was aired live on state-run television.
Describing the PPP's election symbol of the arrow as a "symbol of democracy", he urged people to vote for the party.
In an effort to address reports of his differences with President Asif Ali Zardari's sister Faryal Talpur, Mr Bhutto asked PPP supporters to vote for his aunt as she was safeguarding "his seat" in parliament.
Mr Bhutto also asked the people to pledge that they would make the PPP victorious in polls and exhorted party workers to back former premiers Yousuf Raza Gilani and Raja Pervez Ashraf during the election campaign.
He led the crowd in chanting emotional slogans about his grandfather and mother and their sacrifices and achievements.
The PPP organised the gathering of its workers behind closed doors in Naudero after cancelling a major public rally that is organised every year on April 4 to mark the death anniversary of Zulfiqar Ali Bhutto, the founder of the party.
PPP leaders said the rally was cancelled due to security concerns and also because party workers were busy with the scrutiny of nomination papers.
Mr Bhutto left Pakistan for Dubai last month after a tiff with Mr Zardari and Ms Talpur over the management of the party's affairs. After spending over a week abroad, Mr Bhutto returned to Pakistan after Mr Zardari flew to Dubai to persuade him to come back, PPP insiders said.
PPP leaders have said Mr Bhutto will address several rallies but will not lead the party's campaign.
Mr Zardari too addressed the gathering and listed the achievements of the PPP-led government but did not make any appeal to voters, apparently due to rulings from courts that the President should remain impartial in politics.