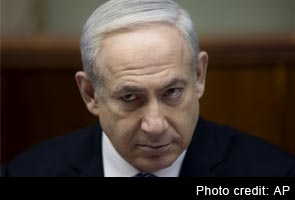 Jerusalem:
His foreign minister had to resign after being accused of fraud. He was sharply criticized for his government's handling of Prisoner X, who committed suicide in prison. And now this, which made front-page news in Israel this weekend: Prime Minister Benjamin Netanyahu stands accused of dipping into state coffers for an ice cream budget of $2,700 a year.
Pistachio, it was revealed by the proprietors of a gourmet ice cream parlor a couple of blocks from the prime minister's official residence, is his favorite (presumably not made with the Iranian kind of nut). Mrs. Netanyahu, they said, appears to prefer French vanilla.
In a country facing severe cuts in government spending after an election that focused largely on the struggling middle class, and with the Netanyahus' supposed taste for the high life already under scrutiny, news of the prime minister's weakness for artisanal pistachio ice cream raised a national outcry.
Shelly Yachimovich, the leader of the center-left Labor Party, summed it up as a Marie Antoinette moment and noted that Netanyahu was the one who always spoke of cutting the fat.
"If there's no bread, eat ice cream," she wrote on her Facebook page, adding, "Shall we laugh or cry?"
The story was broken by a Hebrew financial newspaper and then flagged on the front page of the weekend edition of a popular mainstream Israeli newspaper, Yediot Aharanot. On Monday, the liberal Haaretz newspaper devoted an editorial to the larger issue of spending in the prime minister's residence, complaining of a "royalist culture that has taken root there during Netanyahu's regime."
Netanyahu hurried to control the damage.
"From the moment that Prime Minister Benjamin Netanyahu became aware of the agreement his office had signed with the ice cream parlor for supplying ice cream for hosting at his official residence, he gave an instruction for it to be canceled at once," officials at the prime minister's office said in a statement. "Prime Minister Netanyahu said that this was an exorbitant expenditure that he found unacceptable."
If the owners of the ice-cream shop, Metudela, were feeling any heat, they did not show it.
Orders from the prime minister's residence would come in about twice a month, said Hillel Farkash, a co-owner. One of the staff would phone to place the order and a security guard would pick it up.
Serena Kanfi, who is married to the other owner, Rafael Kanfi, said the Netanyahus would take 3 or 4 kilograms of ice cream (about 6 1/2 to 8 1/2 pounds) at a time if there were guests at the residence. A 1-kilogram box of the ice cream costs a little less than $20.
The Netanyahus also ordered a lot of low-fat sorbets and frozen yogurt, especially in the summer, Kanfi said. An annual budget of $2,700 would buy roughly 25 pounds of ice cream a month.
"It's not that much, if you include guests," Farkash said, adding that the Netanyahus did not actually spend the full amount.
The proprietors say they have not received any orders from the prime minister's residence for "glida," Hebrew for ice cream, in the past few days.
But since the news erupted, local and foreign TV crews have beaten a path to Metudela and some consumers, curious to see what the fuss was about, have made the journey from the coast.
Kanfi said that she usually prepares one tub of pistachio ice cream per day. On Sunday, she said, the customers polished off three.
© 2013, The New York Times News Service