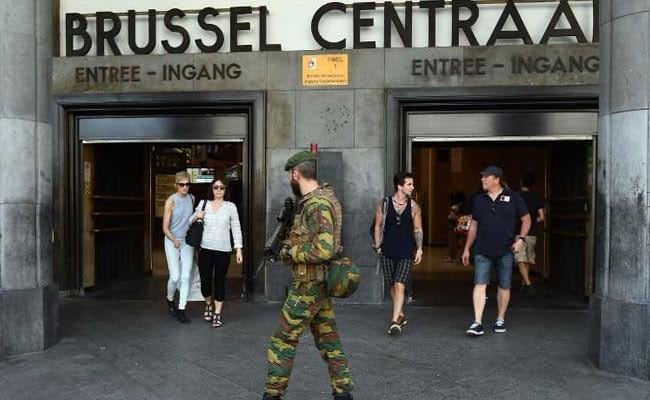 Brussels, Belgium:
Belgian prosecutors said Thursday they were looking for further suspects in an emerging terror investigation and feared a possible fresh attack as the country remained on high security alert.
"We are still looking for several terrorism suspects," Eric van der Sypt, the spokesman for the federal prosecutors' office, told VTM television.
"We fear they may feel cornered. We therefore fear there could be the same reaction as on March 22 (2016)," he said.
Van der Sypt was referring to suicide bomb attacks in Brussels on March 2016 which killed 32 people as police closed in on an ISIS terrorist cell linked to the November 2015 Paris killings.
One of the Brussels bombers was later found to have left a will on a laptop computer in which he said the gang felt increasingly cornered and desperate.
Separately, RTL news network cited Van der Sypt as saying: "One can never know how these people might react."
The authorities however had no "new element" suggesting that an attack was imminent, he added.
On Wednesday, police charged two brothers of a convicted terrorist with belonging to a "terrorist group" they suspected of planning an attack after finding a large stash of weapons including Kalashnikov rifles in raids overnight.
The pair, named as Akim and Khalid Saouti, were among four people detained in the Brussels suburb of Anderlecht, two of whom were later released.
A fifth man was arrested across the border in northern France, near the city of Lille, in connection with the Kamikaze Bikers club based around Brussels.
A source with knowledge of the French operation said this man was suspected of planning a "violent attack."
Another source close to the Brussels probe said the two men in custody were brothers of Said Saouti, a member of the Kamikaze Bikers club who was jailed for six years in 2016 for recruiting people to terrorist organisations and supporting the ISIS group on social media.
Large arms cache
The Belgian federal prosecutor's office said police found automatic rifles, handguns, ammunition and bulletproof vests as well as police and security guards' uniforms and "four detonators" in a lock-up garage in Anderlecht.
Authorities were drawn to the Saouti brothers on suspicion that they had been radicalised and were planning an attack, according to reports.
There was no information on a possible target but the police decided not to wait any longer.
The raids come with Belgium and France still on high alert after several deadly attacks claimed by IS, with troops on patrol in Brussels and Paris to guard key buildings and infrastructure.
Last month a soldier shot dead a man who had attempted to set off a bomb in Brussels' Central Station, sparking fears that further attacks could happen.
Investigators said at the time they had evidence that the suspect, a 36-year-old Moroccan national, had ISIS sympathies.
They also found explosive materials in a raid on his home in Molenbeek, a Brussels district where many of the jihadists who carried out the Paris and Brussels attacks grew up and found shelter.
No link to Paris-Brussels probe
A spokesman for prosecutors had said earlier that the raids were "directly linked" to members of the Kamikaze Riders, not to the investigation into the Paris and Brussels attacks.
Several members of the Kamikaze Riders, formed in 2003 and known for testing the patience of the police, were suspected of links to foiled attacks in Brussels in late 2015.
In October 2016 two members of the gang, including Said Saouti, were convicted of belonging to a terrorist group.
They were originally suspected of plotting an attack similar to the November 2015 carnage in Paris that left 130 people dead.
Four months later, the terrorists also struck in Brussels, hitting the airport and the metro, killing 32 people and leaving hundreds injured.